We at Geeks For Your Information are very pleased to announce our 


Bandicam Christmas 2019 Giveaway!
We would like to thank

Bandicam Company

 
for sponsoring us the giveaway prizes
Overview
Bandicam
is a lightweight screen recorder for Windows that can capture anything on your PC screen as high quality video. It is a high performance Game recorder, Video Capture, and Desktop Screen Capture program. It's high quality and recorded file size is extremely smaller than other software of its kind out in the market today. Bandicam minimizes the CPU usage and allows streaming video to be captured in a low-grade computer.   
Video Overview of Bandicam
Bandicam supports AVI 2.0 OpenDML extensions. Bandicam makes it possible to record a certain area of your PC screen, or a program that uses DirectX/OpenGL/Vulkan graphics technologies. It will carry out video recording at high compression ratio, while keeping the video closer to the original work and provides performance far superior to other programs of similar nature.   
Video-recording of games ad streaming videos
Recording of games, webcam, HDMI and your PC screen

Record at 4K Ultra HD resolution and capture up to 120 FPS

H.264, Xvid, MPEG-4/1 and MJPEG video codec support

AAC, PCM and MPEG-Layer  II audio codec support

AVI/MP4 format support

Image-capturing of games and streaming videos
BMP, PNG and JPEG image format support

Continuous image capturing

Frame rate control (FPS management)
FPS overlay (Show FPS)

FPS limit

Improved recording performance by using hardware-accelerated H.264 encoder
Bandicam provides hardware accelerated h.264 encoder

Nvidia CUDA/NVENC H.264 encoder

Intel Quick Sync video H.264 encoder

Key Features
4K Ultra HD video up to 3840 x 21060

Real-time drawing while recording

Record over 24 hours without stopping (Auto Complete Recording function)

Bandicam supports almost all Fraps' functions (Fraps Alternative, Better than Fraps)

File size of recorded video is much smaller than the competition

Allows upload of recorded file to YouTube without converting (720p/1080p HD video can be made)

Less lag than other recording software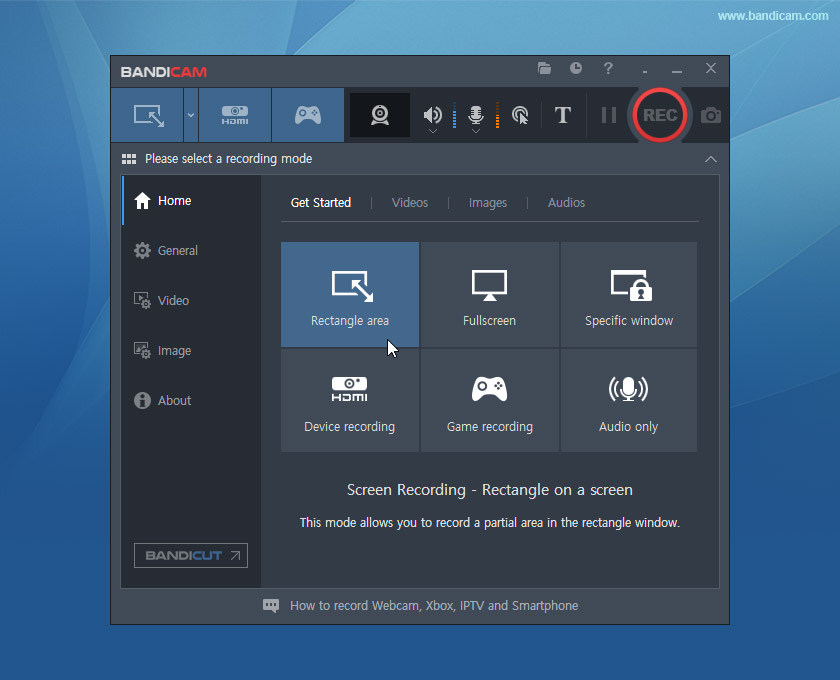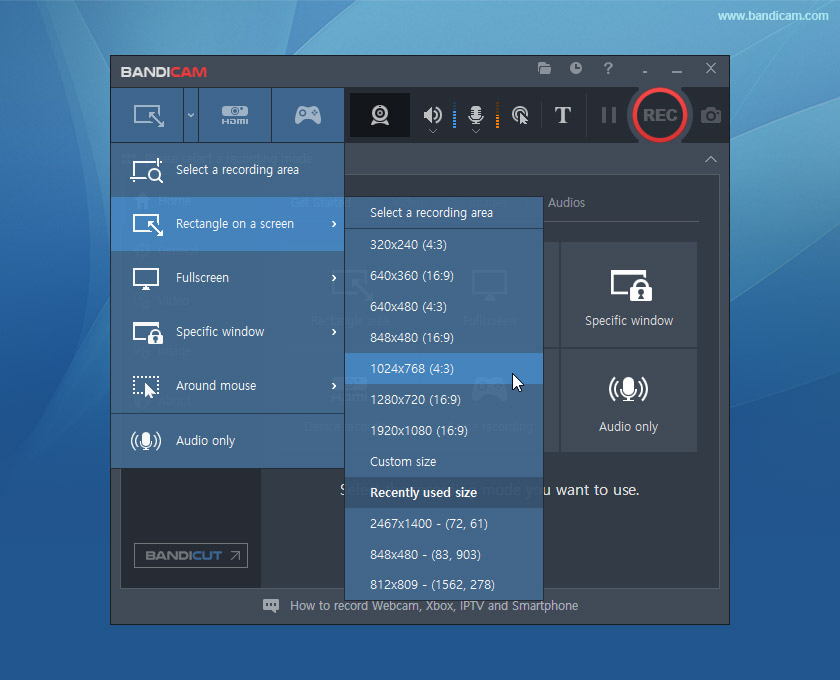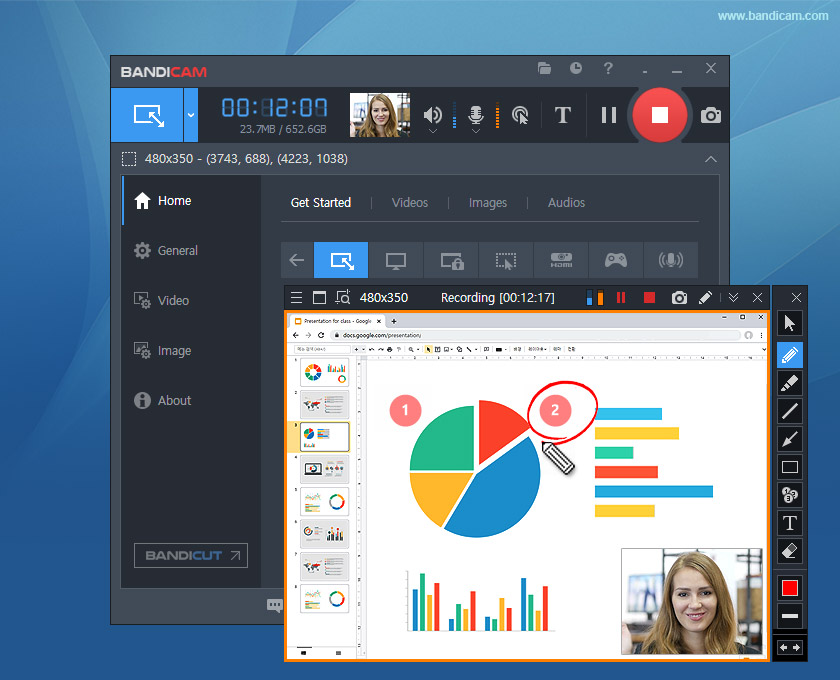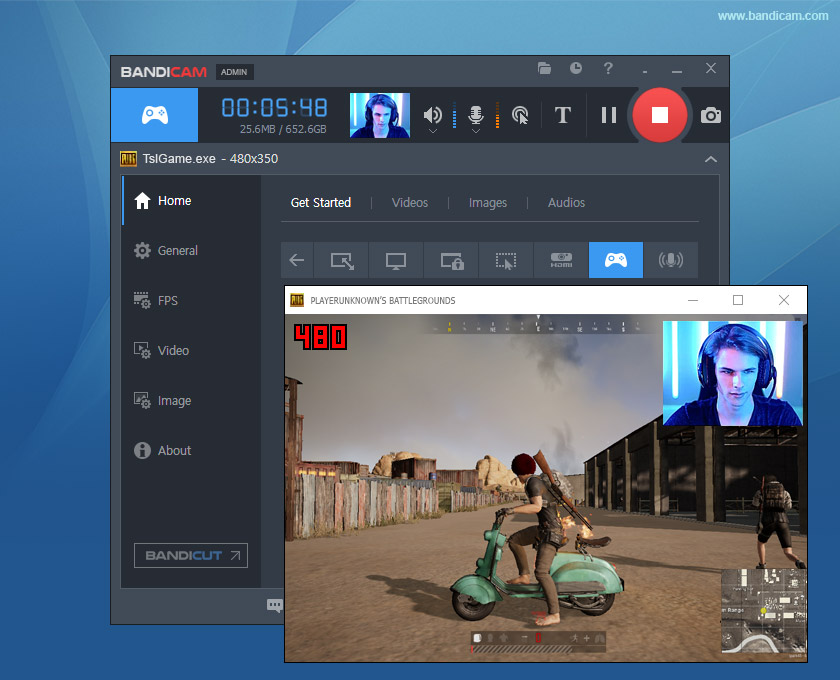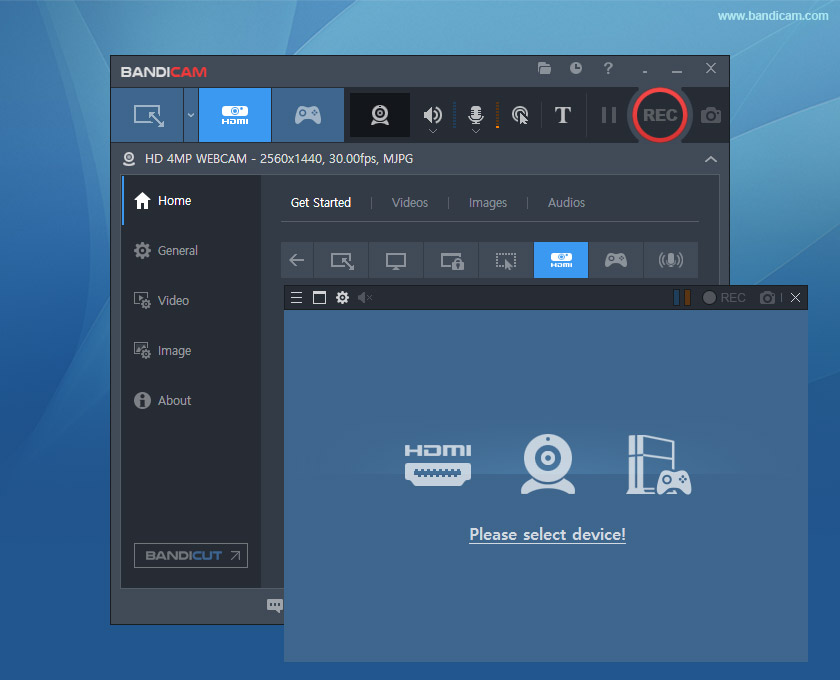 Latest stable version is Bandicam 4.5.4 (01/06/2019)
What's New:
Bandicam now supports the AMD VCN encoder (AMD Radeon RX 5700 XT, etc.)

Bandicam now supports DPI Aware Per Monitor V2 (Applied to dialog and menu)

Added /reg command line for bdcam_nonadmin.exe

Bugs fixed
 

The H.264 (Intel Quick Sync Video) encoder didn't work on some computers.

Other minor bugs have been fixed.

Latest features of Bandicam:
Scheduled Recording



You can automatically start recording at a specific time on a daily/weekly schedule.

Want to start recording at a specific time?
Real-time drawing while recording



Users can simultaneously add arrows, boxes, numbers or highlights while recording in 'Screen Recording' mode.

A real-time drawing function while recording the computer screen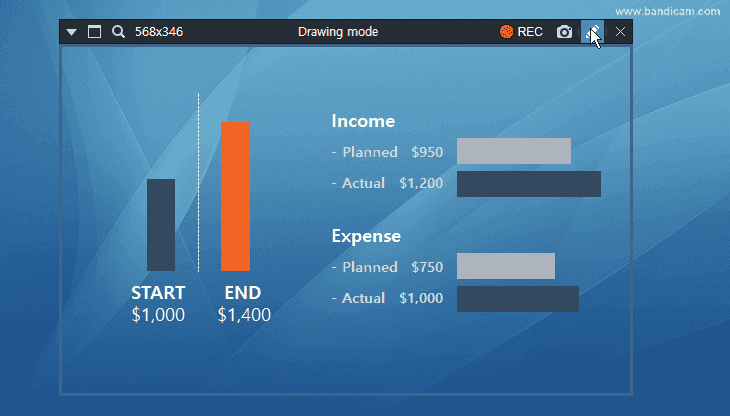 Facecam with Chroma key



You can record your face and make a chroma key video in real-time while recording your computer screen.

How to add a facecam to your gameplay or let's play videos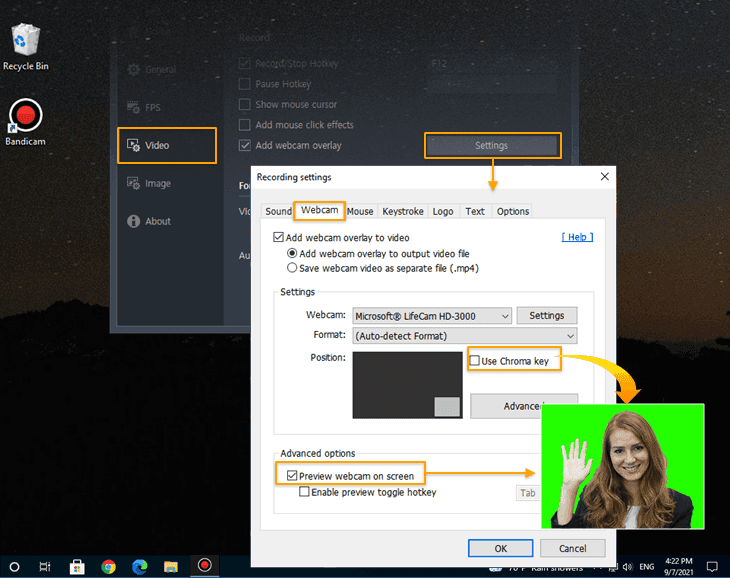 Bandicam prizes for this giveaway/contest
Bandicam Company has provided Geeks For Your Information Forum (ten) 10 x 1.5 year Bandicam licenses as

Christmas 2019

contest prizes
To boost forum participation/contribution, all who wish to participate

MUST have created a minimum of 3 threads and 5 posts

(threads in sections: (i) Giveaways / Contests (ii) Deals and (iii) Geeks FYI > Feedback are NOT INCLUDED).

Entries not meeting the requirement will be deleted.

WE WILL BE CHECKING!
1.
Please answer the question below.  



"What is your current screen recording software application and what features/reasons why Bandicam makes it the better/preferred choice?"




Post your reply as contest entry

WITH

your social media share.  Please see sample entry below.
2.

REQUIRED:

Please share this giveaway by pasting the code below in your Facebook/Twitter/Google+ Account.  

(Share is

NOT

limited to popular social media sites like Facebook, Twitter, Google+, and Instagram.)
Code:
Geeks For Your Information Forum [Official] Bandicam Christmas 2019 Giveaway 
https://www.geeks.fyi/showthread.php?tid=9404 
Optional:

You may want to like/follow

Bandicam's

social networking sites as added support.
3. One entry per IP address ONLY.

WE WILL BE CHECKING!



Only one entry per member is allowed. Dual entries will both be deleted and user will be banned from giveaway so

please be careful.



If there are any questions / concerns pertaining to the giveaway/contest please get in touch with me through PM.

Do not post it in this thread.

Doing so will merit a

warning

and ultimately be

banned

from entering further giveaway/contests.
Ten (10) winners will each receive (one) 1 x 1.5 year license of Bandicam
Winners will be selected by

Bandicam Company Representative
Upon winner announcement, all winners will only have 5 days to send a PM to claim their prize.
Please include your details (

Name / Email

) in your PM claim.
NO CONFIRMATION

FOR THOSE WITH INSUFFICIENT/INCOMPLETE DETAILS.
Prize will be

FORFEIT

if a PM claim is not received within the specified timeframe.
Prize will be

FORFEIT

if a PM claim is "not confirmed".
The Giveaway will run from 
December 15, 2019 to January 15, 2020