We at Geeks For Your Information are very pleased to announce our 


VoodooShield PRO

Christmas 2020

Giveaway!
We would like to thank

VoodooSoft, LLC.


for sponsoring us the giveaway prizes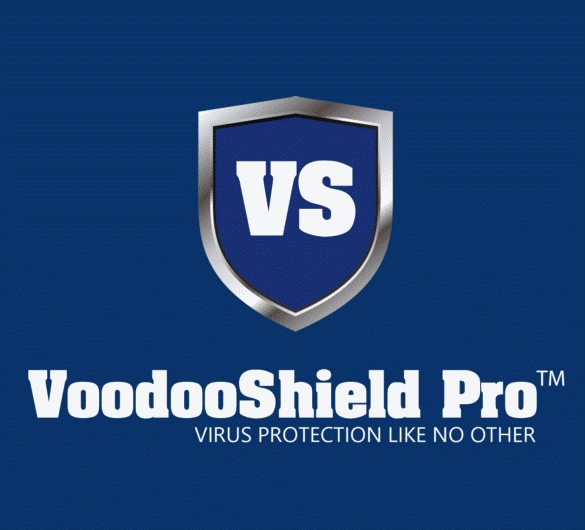 Overview
VoodooShield
is an anti-executable program that whitelists programs running in your system and blocks whatever untoward behavior that is trigerred by programs that are not in the whitelist. There is never a good reason to let new, non-whitelisted executable code run while an app is running. 
VoodooShield offers a more tighter
(and more robust)
protection  by solving the "
single static level of protection
" mostly offered by security products out in the market. VoodooShield dynamically adjusts its security posture on the fly
(aggressive, moderate, relaxed, or silent)
, based on the end-user's current activity and behavior. 
VoodooShield is the only product in the industry that scans our proprietary tiny, customized whitelist specifically for safe / clean files and automatically creates firewall rules for unknown items. In other words, traditional antivirus scans for malware while WhitelistCloud scans for safe / clean files. As a result, Administrators are continually aware that only safe items are running on the endpoints. With traditional AV engines, Administrators are somewhat certain that malware is not executing on the endpoints, but with WhitelistCloud, they are essentially certain that only safe items are executing at any moment in time.   
VoodooShield considers the entire attack chain in the parent / child process creation relationship. Not only does this make VoodooShield more secure, our mechanism is flexible so that blacklisting vulnerable items globally is not required. Take the case of Microsoft PowerShell, VoodooShield is not required to blacklist PowerShell globally in order to protect against PowerShell attacks. VoodooShield considers the entire attack chain so that benign scripts that need to execute are able to do so, while blocking malicious PowerShell attacks. VoodooShield includes extremely robust ransomware, script, LOLBins and fileless malware protection capabilities. 
VoodooShield utilizes
ML/Ai
(VoodooAi)
and reputation based file insight
(WhitelistCloud)
that provides the end-user with file insight so they are able to make an informed decision, while offering an end-user recommendation based on the provided file insight. Unlike products that utilize legacy / deprecated Software Restriction Policy (SRP) that operates in user-mode, VoodooShield utilizes a
modern kernel-mode monolithic blocking mechanism
that does not require patches, hacks or tweaks to protect against new or undiscovered vulnerabilities and threats.  In addition, unlike other products in its class, VoodooShield is refined to the point that it does not require vendor co-management of the Web Management Console. VoodooShield Pro is highly customizable through its settings, allowing Administrators to fine tune the overall security posture for each end-user.   
The golden rule of VoodooShield:
If VoodooShield blocks something that you asked or intended 
to run, then allow it (assuming that there are no warnings from the blacklist scan or VoodooAi).  Otherwise, if VoodooShield blocks something out of the blue, then just ignore it and assume it was a malware or a virus. 
The VoodooShield Concept
Although VoodooShield is extremely user-friendly, it is quite different from traditional blacklist antivirus, so it is vital that the user understands how it works in order to use it properly.  
Please keep in mind

, VoodooShield is not intended to replace your current security solution, but rather to

compliment it by adding an additional initial layer of protection

that acts as a lock, rather than a traditional blacklist filter.
Traditional antivirus software can no longer keep up with the 300,000+ new viruses and malware created daily, so VoodooShield locks your computer and blocks all new, non-whitelisted executable code
(including viruses and malware)
, while your computer is running a web app
(browser, email, etc.)
. 
Since
most
viruses and malware attack through web browsers and email attachments, VoodooShield simply locks your computer when you are browsing the web or checking email.  It also protects the user space when not at risk.
When used properly
, VoodooShield will effectively block all browser and email based viruses and malware.  
VoodooShield does not remove existing viruses. VoodooShield uses a proprietary proactive whitelist snapshot approach to virus and malware protection.  VoodooShield is a patented toggling Desktop Shield Gadget / Computer Lock that automatically toggles to
"ON"
and locks your computer when you start a web app. There is never a good reason to let new, non-whitelisted executable code run while a web app is running. 
VoodooShield Modes
Disable Protection (VoodooShield will remain OFF):



Disable Protection mode is similar to Training mode, except new items are not added to  the whitelist, so it is typically used when you are installing new software, but do not 
want the installer items to be automatically added to the whitelist. The computer is not  protected in Disable Protection mode. 
 


Training (VoodooShield will remain OFF):



Training mode is typically used when you initially install VoodooShield, or when you are  installing or running new software. VoodooShield will remain OFF and will allow all new  items and automatically add them to the whitelist, so they will not be blocked once  VoodooShield turns back ON. The computer is not protected in Training mode. 



AutoPilot Mode (VoodooShield will remain in AutoPilot Mode):



AutoPilot mode will remain in AUTO Mode and automatically allow and whitelist any  file that is determined to be Safe by VoodooAi and WhitelistCloud. If a non-whitelisted process is spawned that is determined to be Not Safe by VoodooAi or WhitelistCloud,  VoodooShield will block the item and prompt the user so they can decide whether to allow the item or not. 

AutoPilot mode is a great choice for users who want the power and performance of  application whitelisting, without the hassle of constantly being bombarded by affirmative user prompts. Gamers and software testers typically use this mode. 



Smart / Default (VoodooShield will toggle between ON and OFF):



Smart mode will toggle VoodooShield between ON and OFF, depending on if the  computer is at risk of infection or not, which is mainly determined by whether a web app is running or not. Web apps such as Internet Explorer, Outlook and Firefox all  expose the computer to significant risk while they are running, so when a web app is launched, VoodooShield automatically toggles to ON to lock the computer, and anything  that was previously whitelisted is allowed, but all new non-whitelisted executablecode  is blocked. 

Likewise, if no web apps are running, there is no reason to lock the  computer, so VoodooShield automatically toggles to OFF so that it can automatically and safely build the whitelist while the computer is not at risk. VoodooShield's  proprietary toggling severely limits the quantity of dangerous affirmative user prompts  that the user is required to respond to. 



Always ON (VoodooShield will remain ON):



Always ON mode is typically used after a few days or weeks, once the whitelist is  sufficiently built so that VoodooShield knows what to block and what to allow.  Although a lot of users prefer to run VoodooShield in AutoPilot or Smart mode full  time.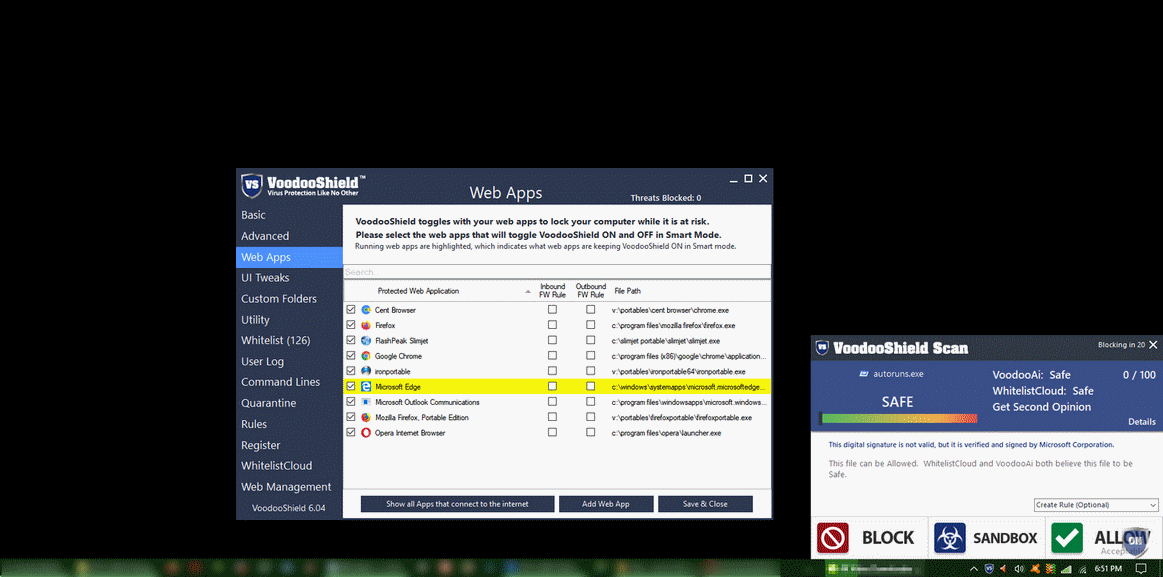 VoodooShield comes in 2 versions: (a)
FREE version
and, (b)
PRO version
.
What is the difference between VoodooShield Free and Pro?
The installer and software are the same. VoodooShield is free to non-commercial home users, but does not allow the user to adjust most of the settings and tweaks that are available in the Pro version. VoodooShield Free is pre-configured with optimal settings which will work great for the majority of users. VoodooShield PRO allows the user to adjust and tweak the settings and also includes several corporate features that are useful in the enterprise. If you have a PRO licenses you just have to register for a user account so you can unlock the advanced features.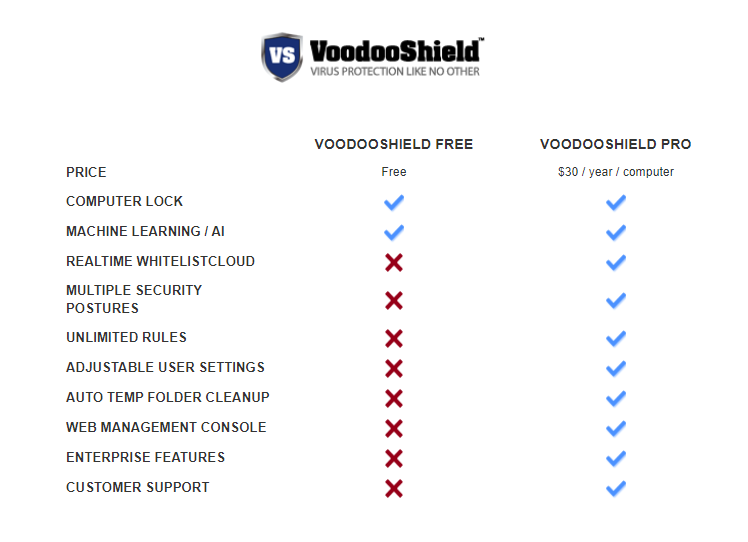 Latest version build is VoodooShield 6.11 (30-December-2020)
* new feature added:



1. Silent Block feature.

See VoodooShield Forums Update Thread HERE
as compared to VoodooShield v6.06e (7-Dec-2020) Changes:



1. Added encryption of quarantined files (thanks Harlan! --

harlan4096

)

2. Fixed a bug that "Krusty" found in the WLC Firewall feature
VoodooShield PRO Licenses for this
Christmas 2020
giveaway/contest
VoodooSoft, LLC. has provided Geeks For Your Information Forum 2 sets of

Christmas 2020

prizes of VoodooShield PRO.
TOP three (3) LIFETIME licenses of VoodooShield PRO / Five (5 x 2-year) licenses of VoodooShield PRO
To boost forum participation/contribution, all who wish to participate

MUST

have posted in the Introduction thread

AND

created a minimum of

one

 (1) authored-threads

and

five

(5) posts

(threads in sections: (i) Giveaways / Contests (ii) Deals and (iii) Geeks FYI > Feedback (iv) Introduction are NOT COUNTED as created authored-threads).

Entries not meeting the requirement will be deleted. 

Members with on-going "

warnings

" will

NOT

be allowed to join any giveaways until such "

warnings

" have been lifted.

WE WILL BE CHECKING!
1. Answer any of the two (2) questions below:
"Share feedback to VoodooSoft LLC.
(can be of their VoodooSoft LLC service, VoodooShield features or site content, etc.) and why do you want to win a VoodooShield PRO lifetime license?"

or, 
"What is your current security set-up and what convinces you of VoodooShield PRO being the best addition to your security layer?"
Post your reply as contest entry

WITH

your social media share.  Please see sample entry below.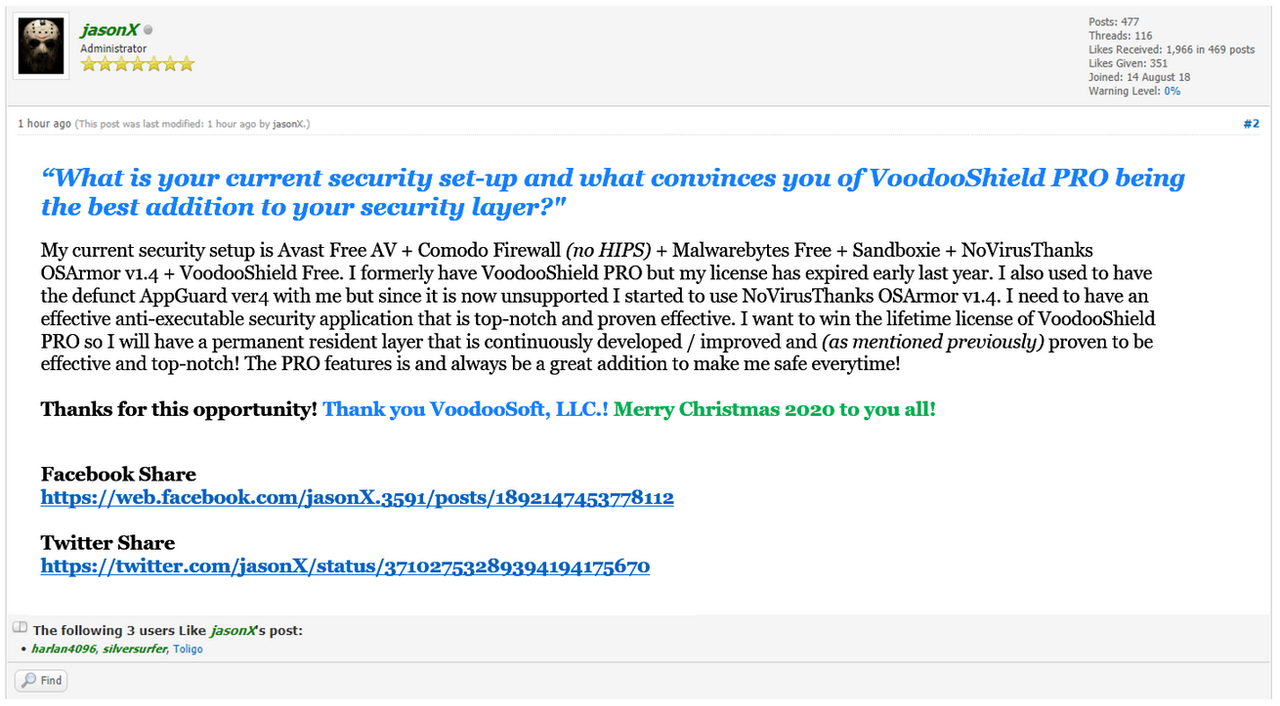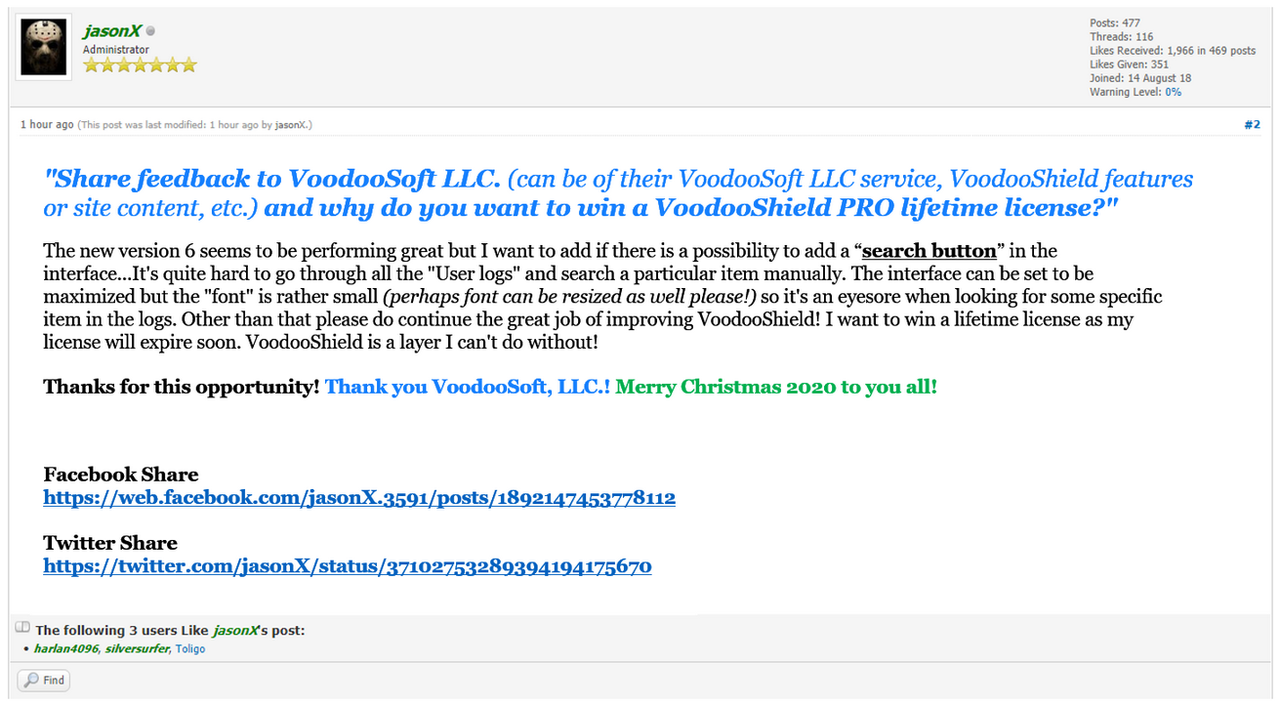 2.

REQUIRED:

Please share this giveaway by pasting the quoted text below in your Facebook/Twitter/Google+ Account.  

(Share is

NOT

limited to popular social media sites like Facebook, Twitter, Google+, and Instagram.)
Quote:Geeks For Your Information Forum [Official] VoodooShield PRO Christmas 2020 Giveaway 
https://www.geeks.fyi/showthread.php?tid=13689
Optional:

You may want to like/follow

VoodooShield's

social networking sites as added support.
3. One entry per IP address ONLY.

WE WILL BE CHECKING!



Only one entry per member is allowed. Dual entries will both be deleted and user will be banned from giveaway so

please be careful.



If there are any questions / concerns pertaining to the giveaway/contest please get in touch with me through PM.

Do not post it in this thread.

Doing so will merit a

warning

and ultimately be

banned

from entering further giveaway/contests.
Top 3 winners will each receive one 1-LIFETIME license of VoodooShield PRO
Succeeding five (5) winners will each receive one (1 x 2-year) license of VoodooShield PRO
Winners will be selected by

VoodooSoft, LLC. Representative
Upon winner announcement, all winners will only have 5 days to send a PM to claim their prize.
Please include your details (

Name / Email

) in your PM claim.
NO CONFIRMATION

FOR THOSE WITH INSUFFICIENT/INCOMPLETE DETAILS.
Prize will be

FORFEIT

if a PM claim is not received within the specified timeframe.
Prize will be

FORFEIT

if a PM claim is "not confirmed".
The Giveaway will run from 
December 10, 2020 to January 10, 2021