We at Geeks For Your Information are very pleased to offer 


Emsisoft Anti-Malware Home Christmas 2021 Giveaway!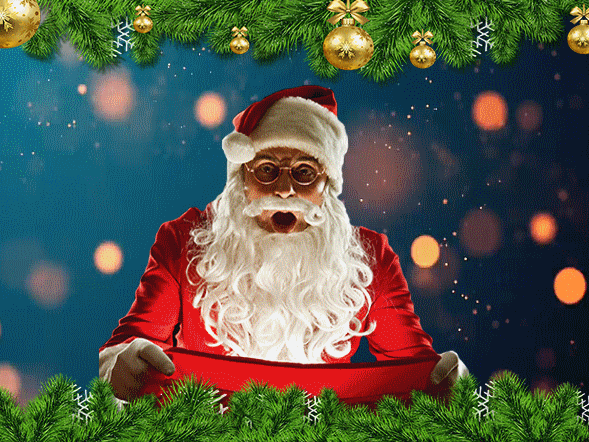 We would like to thank

Emsisoft

for sponsoring the giveaway prizes.
Emsisoft Anti-Malware Home
is an advanced security tool designed to keep your computer away from all malicious files, be them viruses, Trojan horses, spyware or adware. Emsisoft Anti-Malware is a pro-active weapon made to prevent infection from all internet threats. Emsisoft Anti-Malware has four (4) layered real-time protection: (1)
Web Protection & Browser Security
(2)
Real-time File Guard
, (3)
Behavioral Blocker
, and (4)
Anti-Ransomware protection
.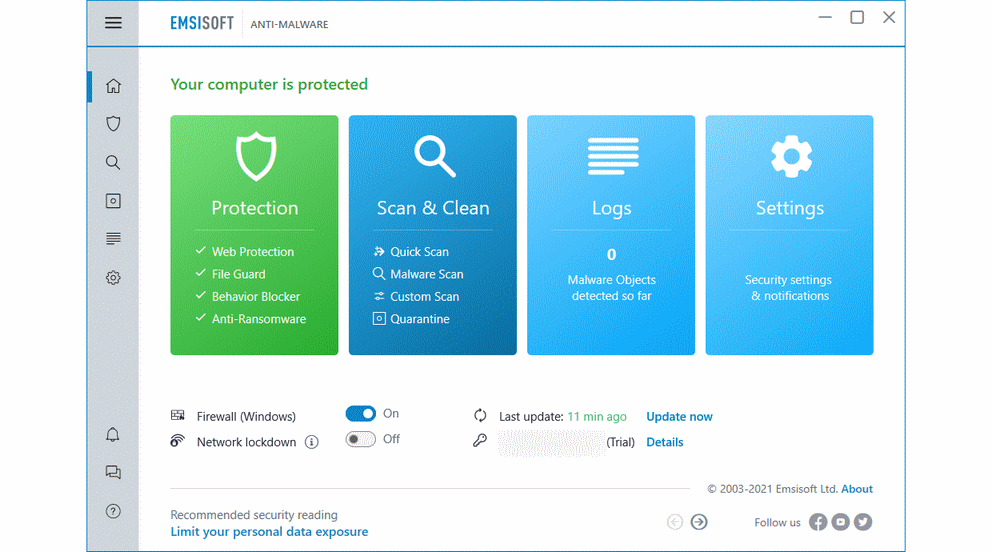 Learn how online threats have evolved | Emsisoft
How Emsisoft's layered protection keeps you safe online | Emsisoft
Webinar | MSPs and Ransomware: The Four Corners of Protection
Web Protection & Browser Security
If a user attempts to access a malicious website, Emsisoft Anti-Malware Home will immediately block the connection and prevent access. Leading privacy conscious filtering without SSL exploitation. Emsisoft Anti-Malware will prevent the user from connecting to a malicious site by scanning and filtering all internet traffic utilizing a built-in list of known dangerous and fraudulent websites, which is automatically updated every hour.   
Real-time File Guard
This real-time protection layer checks all downloaded and modified files with the award-winning super-fast Emsisoft dual-engine scanner including machine learning (AI)-supported malware detection. This crucial layer of protection checks all files in your system and protects you in real-time. Most importantly, File Guard operates in the background of your computer, meaning you don't feel the impact of its power while keeping you protected always! No negative impact at all to the user!  
Emsisoft File Guard Demonstration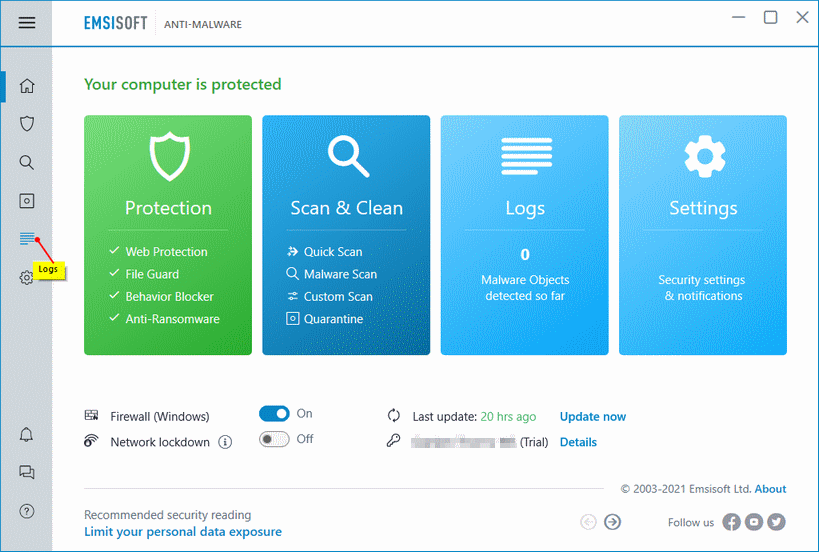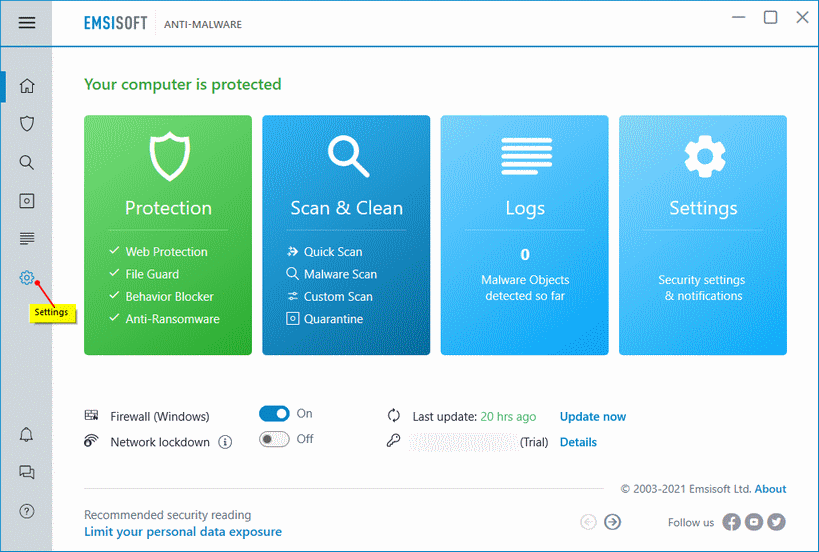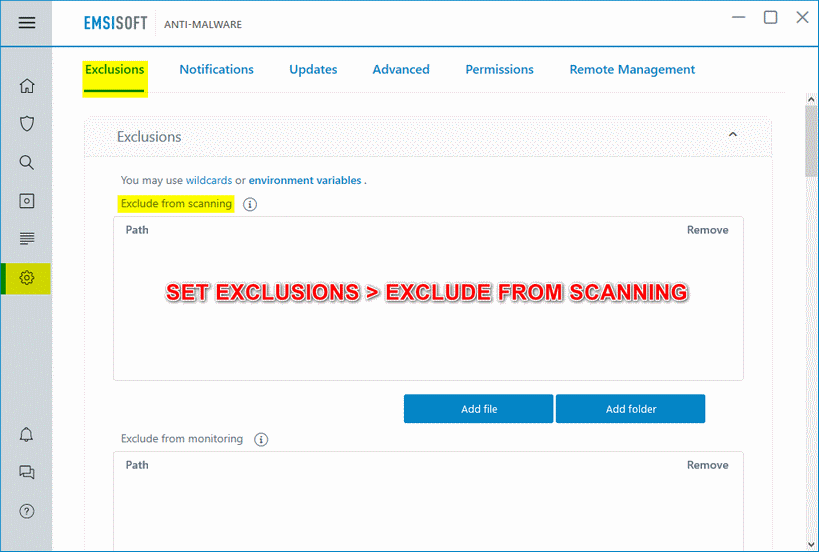 Behavior Blocker and Anti-Ransomware
The ultimate defense. The combination prevents, sophisticated malware attacks that other security applications cannot protect you from. Emsisoft Anti-Malware has been optimized against zero-day attacks and ransomware behavior. 
Emsisoft Anti-Malware Home continuously monitors the behavior of all active processes and immediately raises an alert if suspicious activity is detected. The Anti-Ransomware component has a custom-built monitor which stops ransomware before it can encrypt any files. Emsisoft's intelligence gathering network coupled with exclusive partnership with ID Ransomware, allows them to discover new and emerging threats fast. As a results Emsisoft is almost often first-to-market with protection against new and emerging threats ensuring user's endpoints are protected in the shortest possible time.
The Behavior Blocker section lists all running process with columns for Process (Name), ID (Process ID), Description, Company and Status.
Anti-Ransomware and Behavior Blocker features are connected because they rely on the same core technology.
Webinar | Ransomware: What to do if disaster strikes?
Scanning & cleaning malware infections | Emsisoft Anti-Malware Tutorial
Emsisoft Behavior Blocker vs Ransomwar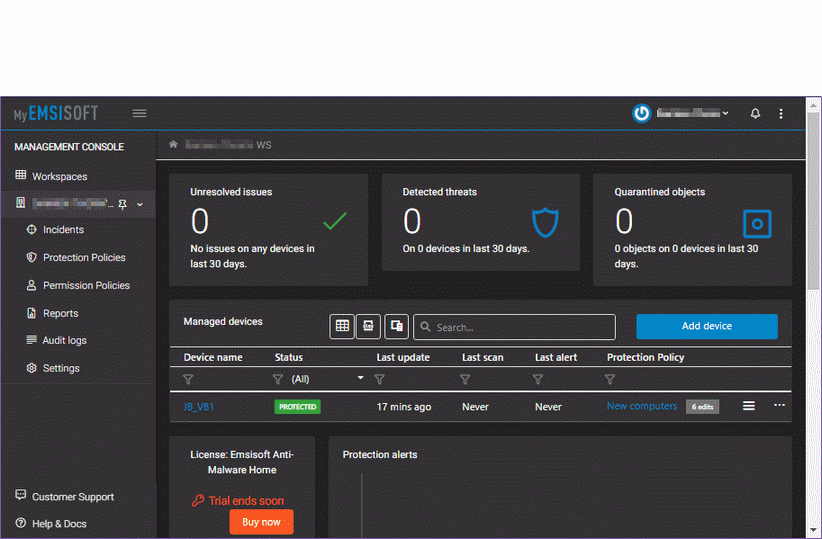 Emsisoft Management Console
Being out of the office doesn't mean you have to be out of touch. Emsisoft lets you manage your protected devices and respond to alerts anywhere, any time. With "
Emsisoft Management Console
" user's data can be accessed via any web browser or via apps for Android and iOS. 
Emsisoft Management Console
is made for network administrators, managed service providers and IT professionals and provides centralized remote management of Emsisoft Anti-Malware
(including Home, Business Security and Enterprise Security license plans)
. It is part of
my.emsisoft.com
and can also be pinned as an app to a user's app launcher.
In
my.emsisoft.com
the user has its own "Workspace" which typically represents the boundaries of his company or organization, but can also define a user's home computers group.
Licenses are applied on workspace level, which means a user's workspace can either be in trial mode or have a full version license assigned for all your devices.
Emsisoft Management Console ships with Emsisoft Anti-Malware Home.
Emsisoft Management Console and Browser Security
Latest stable version build is Emsisoft Anti-Malware Version 2022.1.1.11333 (Jan/05/2022)
All 2022.1 improvements in a nutshell
Device protection (desktop)
Major UI improvements.

Several minor tweaks and fixes.

Management console (web app)
Major UI improvements.

Several minor tweaks and fixes.

Emsisoft Product Update Blog News HERE
Emsisoft Anti-Malware Home Licenses for this giveaway contest
Emsisoft has sponsored Geeks For Your Information Forum


TWENTY-FIVE (25 x 1-year --3-devices)

licenses of Emsisoft Anti-Malware Home as

Christmas 2021

contest prize!
Everyone

can join in this contest including approved

"new members"

. 


Note:

'new members' must have posted in the "Introduction" section HERE to qualify.
1. Participants can enter the contest

TWICE

(2x). Please answer the question below.
Please follow the "sample entries" for

ENTRY#1

and

ENTRY#2

. 

Social media share for

ENTRY#2

must be

DIFFERENT

from

ENTRY#1

. 

Please

DO NOT FORGET

to indicate the

ENTRY#1

(or

ENTRY#2

) at the top most corner of your entries.
"WHAT is your main AV/security suite (or setup) and WHY do you want to switch to Emsisoft Anti-Malware Home?"
"Share a Christmas / New Year Message to Emsisoft"
Post your reply as contest entry

WITH

your social media share.  Please see sample entry below.
2.

REQUIRED:

Please share this giveaway by pasting the quoted below in your Facebook/Twitter/Google+ Account.  

(Share is

NOT

limited to popular social media sites like Facebook, Twitter, Google+, and Instagram.)
Quote:Geeks For Your Information Forum [Official] Emsisoft Anti-Malware Home Christmas 2021 Giveaway
https://www.geeks.fyi/showthread.php?tid=16273
Optional:

You may want to like/follow Emsisoft's social networking sites as added support.
3. Only two (2) entries per member is allowed. Same IP address per member.

WE WILL BE CHECKING!



Excess entries will merit a deletion of all member's entries and user will be banned from giveaway so please be careful.

If there are any questions / concerns pertaining to the giveaway/contest please get in touch with me through PM.

Do not post it in this thread.

Doing so will merit a

warning

and ultimately be

banned

from entering further giveaway/contests.
Each of the

TWENTY-FIVE (25)

winners will get one (1-year x 3 devices) Emsisoft Anti-Malware Home license
Winners will be selected via

random.org

and once posted,
winners will only have 5 days to send a PM to claim their prize. 
Please include your details (

Name / Email

) in your PM claim for proper licensing.
NO CONFIRMATION

FOR THOSE WITH INSUFFICIENT/INCOMPLETE DETAILS.
Prize will be

FORFEIT

if a PM claim is not received within the specified timeframe.
Prize will be

FORFEIT

if a PM claim is "not confirmed".
The Giveaway will run from December 8, 2021 to January 17, 2022