Source and Download link
Block annoying ads and stay as far away as possible areas disseminating malware and other types of entertainment such as pornographic websites, social networks and online games with this versatile tool oriented security.
With her pretty explanatory name,  WebLocker  is a security oriented software that can help you improve your online experience and protect you, at least on the Internet.
Block distractions and malicious websites using this valuable tool
You can easily consider WebLocker as a parental control utility with effective ad-blocking features as it allows you to block potentially malicious various areas until 19.5000 pornographic sites, some of the most popular social media platforms, as well as access to online gambling services.
It is also able to block YouTube ads, although it is not as refined as a pure public blocker blood because we're sure you'll know.
easy to install, accessible to novices and very interesting
The best part of this utility is that it can do all the things described above without forcing you to go through complicated procedures. Installation is fairly simple to start using the application, simply create an account and assign a master password.
Our advice, if you want complete protection from the start, go directly to the section Online Protection tab and enable all the features displayed. The utility is also quite capable when it comes to protect against DNS leaks and other suspicious online tracking shenanigans.
In the dedicated section, you can choose one of five DNS protection strategies or manually enter your preferred and alternate DNS servers. Drag a tab to the left and you can block access to different domains and websites. Quite conveniently, the application allows you to schedule when the entire blocking operation should take effect.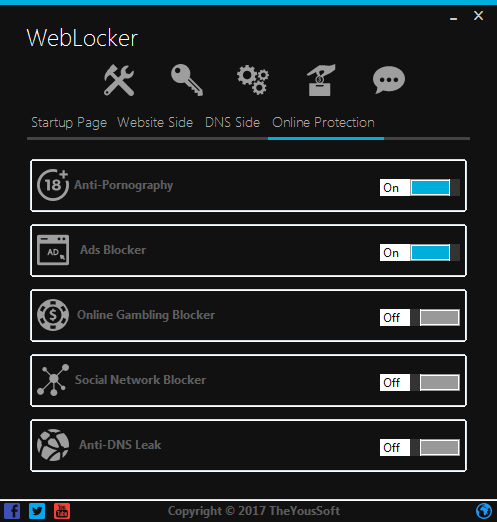 Packs a surprising amount of useful features
On the top of the compact main application window, there are some additional features that might be worthy of your attention. For example, you can empty the DNS cache effortlessly renew the registration of the DNS client and restart the DNS Client service.
Options Connection menu can be even more attractive because they allow you to reset all the rules governing the connection between your computer and the Internet, in order to "solve" uncomplicated connectivity problems.
Last but not least, you should take a look at some additional features located in the Protection tab, in the Application Settings section. You are allowed to fully customize the behavior of the application according to your needs by turning on or off various features.