05 December 18, 11:25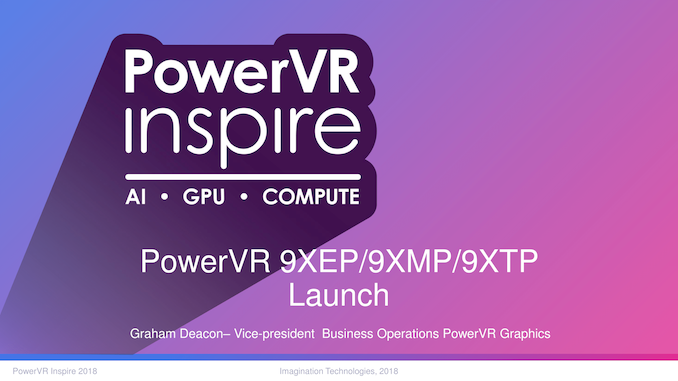 Quote:When Imagination first announced their PowerVR Furian architecture, it was only a month before they announced Apple was to phase out their use of Imagination's GPU IP. The state of matters was one where Imagination would end up selling off their MIPS CPU and Ensigma communications businesses, doubling down on GPUs, and finally being acquired by Canyon Bridge after putting itself up for sale.

Investment into AI and automotive aside, the fact of the matter is that Imagination's PowerVR GPUs are not just the company's workhorse, but are also critical in fueling their efforts into said AI and automotive. And in addition, the forward-looking Furian architecture was intended for high-end first and co-existing with Rogue for some time, making it crucial that Furian keeps progressing. So today at PowerVR Inspire 2018 – actually the inaugural event – Imagination is announcing a new PowerVR GPU IP lineup: the Series9XTP, Series9XMP, and Series9XEP families.

Succeeding the low-to-mid-range Series9XE and Series9XM cores launched last year, the new Series9XEP and Series9XMP offerings are similarly oriented towards the lower-end and mid-range, respectively. Unsurprisingly, the 9XEP is targeted for responsive set-top box/digital TV GUIs and entry-level mobile gaming, whereas the 9XMP is clearly focused on compute and gaming, looking towards the mid-range mobile space. As opposed to the 9XE and 9XM, the differentiation between the 9XEP and 9XMP is clear when looking at how Imagination lays out their GPU IPs in terms of compute/gaming/processing power on the one side, and fillrate for higher resolutions and refresh rates on the other side.
Full reading:
https://www.anandtech.com/show/13671/ima...s9x-p-gpus