Ashampoo  Slideshow Studio 2019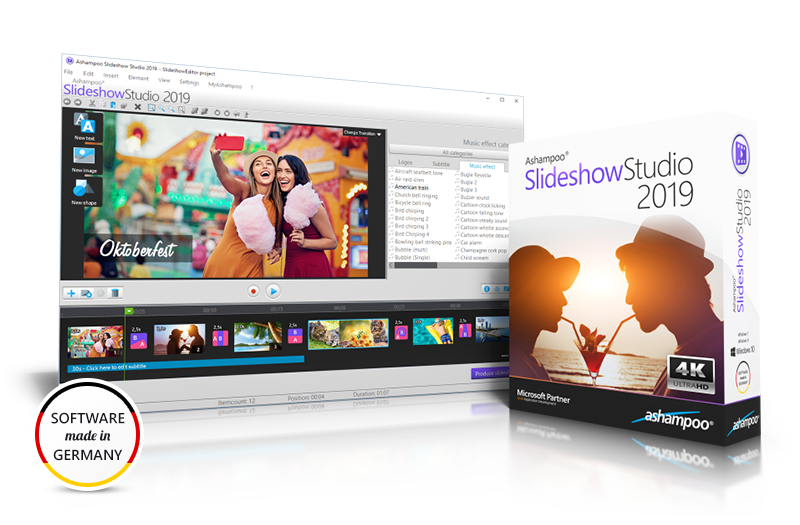 Ashampoo Slideshow Studio 2019 easily turns images and sounds into stunning slideshows with complementary music, transitions, fades and opening/closing credits. It's the perfect way to present your photos as dynamic videos at home, at school, in the office or any other occasion. Add your own voice narration, texts, logos and sound effects to give your work an individual touch. There's no need for any previous knowledge thanks to the straightforward interface. On top, a built-in wizard guides users from start to finish to help them tell their story in just a few steps. Supported output formats include both WMV and the cutting-edge WebM (VP9) format.
Create slideshows quickly and easily

Templates and themes for every occasion

Add sounds and voice narration to videos

Multiple transitions for added variety in slideshows

Creative freedom with overlays, comments and effects

Wizardbased slideshow designer

New templates for overlays and subtitles

Ashampoo  Photo Optimizer 2019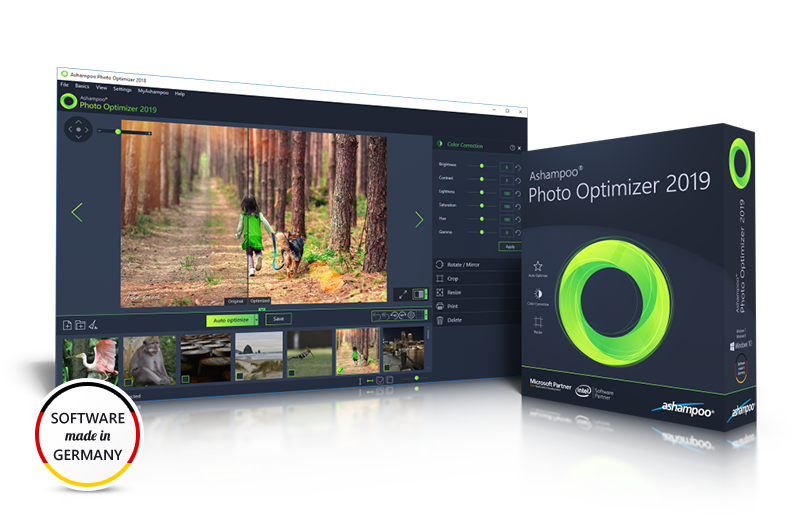 Ashampoo Photo Optimizer 2019 is the easiest photo editor you've ever seen. Auto-optimization is at the center of this editor and enables users to enhance images at the click of a button with no manual intervention required. A split view serves as a before-after view once the image has been thoroughly analyzed for defects. Dull colors, poor lighting or off color temperature – Photo Optimizer's algorithm detects all blemishes. In this latest version, optimization has been augmented with support for white balance and contrast spread for even better results. With the help of 5,000 customers, these tools have been fine-tuned to the needs of ambitious photographers. Further image processing can be achieved through indispensable features like rotating / mirroring, cropping and, naturally, resizing of images. Ashampoo Photo Optimizer 2019 is designed for fast and effective photo editing and doesn't require any photographic knowledge.
One-click image optimization

Rotate and mirror images

Cropping

Ashampoo  Audio Recorder Free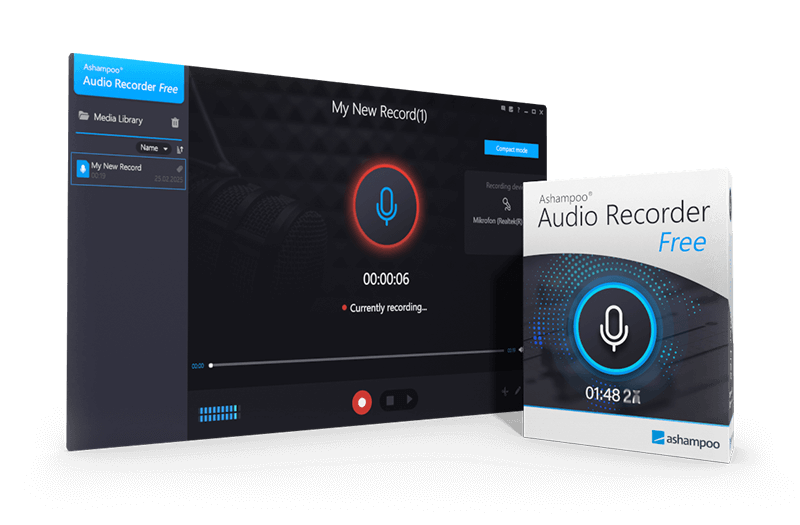 Ashampoo Audio Recorder Free is the fuss-free voice and music recorder to capture audio from your microphone or sound card (loopback). Create voice memos or use the loopback feature to capture everything you hear, whether it's audio from your browser or any other audio source. Simply select the source, click Record and you're good to go. The highly user-friendly interface supports multiple output formats, including MP3, WMA, OGG, WAV, FLAC, OPUS and APE. And with sampling rates up to high-quality 48kHz, the program is a great choice for recording streams, podcasts and music. Recordings are neatly arranged in a built-in fully playable media library, making reviewing and renaming files incredibly easy. In addition, the integrated trimming feature ensures you get exactly the audio portions you want and in just a few clicks.
Fuss-free audio recording

Record from your microphone or soundcard ("What You Hear")

Output formats: MP3, WMA, OGG, WAV, FLAC, OPUS, APE

Media library with recorded clips

Audio trimming

File renaming

Built-in audio player

Quick file access through media library

Record music, streams, podcasts and audiobooks

Turn your PC into a dictaphone

Ashampoo  Music Studio 2019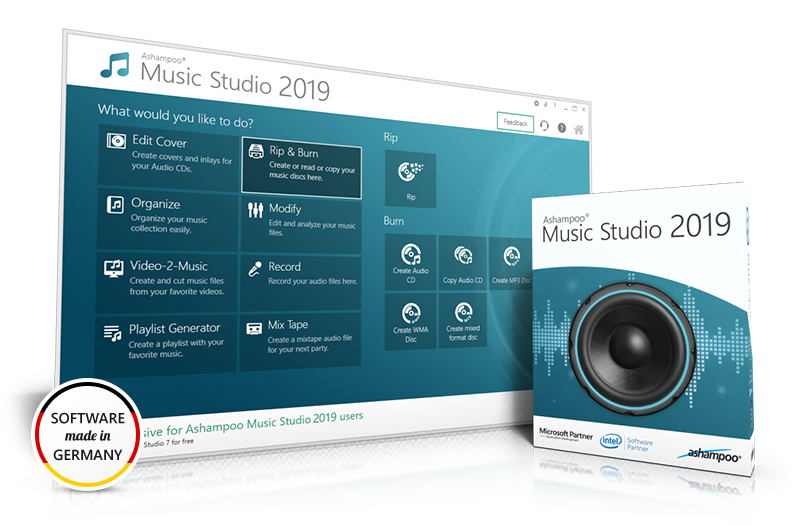 Ashampoo Music Studio 2019 is a tried and tested music program for Windows to edit and burn audio files. Audio disc ripping happens quickly and missing track information is filled in automatically based on an extensive online database. Files can be burned or converted into different audio formats. The integrated audio editor enables users to modify or remove individual passages and allows them to split up tracks into individual parts. Organizing music and sound collections is another strength of Ashampoo Music Studio 2019. Metadata can be modified, volumes altered and files renamed based on customizable naming schemes. Sounds can be easily mixed with fading and audio tracks extracted from existing videos, e.g. to create ring tones. The built-in cover editor makes it easy to design covers and inlays using multiple integrated templates from simple designs to mosaic layouts. The user interface is logical and optimized for performance, requiring only a few clicks from start to finish and no previous knowledge.
Versatile cover editor with multiple templates

Audio file recording

Burn audio CDs

Rip audio CDs

Convert audio files into various formats

Edit and auto-complete metadata

Edit and normalize sound files

Mix tracks with fading

Extract audio from videos

Versatile cover editor with multiple templates