We at Geeks For Your Information are very pleased to announce our 


AirVPN 2022

Giveaway!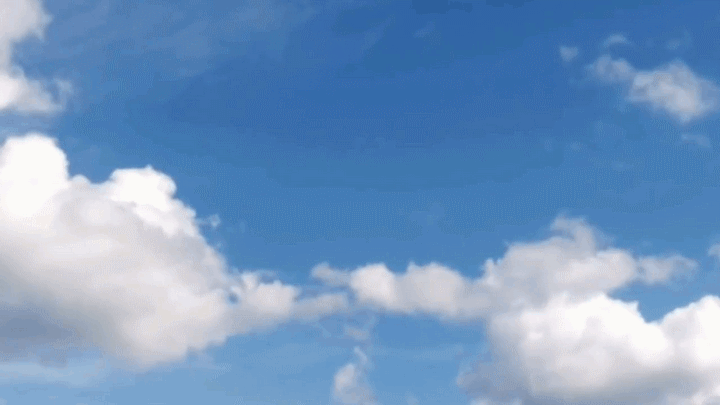 We would like to thank

AirVPN

 
for sponsoring us the giveaway prizes
Overview
AirVPN
started  their humble beginnings as a project in 2010 by a very small group of activists, hacktivists, with the invaluable
(

and it was totally free!

)
help of two fantastic lawyers and a financing from a company interested in the project and operated by the very same people.
Initially AirVPN had two dedicated servers in one country and was operated by Iridium, a company which was born in 1998 and that employed, in the telecommunication field, only persons involved in digital or non-digital civil activism. Iridium took care of AirVPN until November 2012, when all the handling was progressively transferred to a dedicated company (Air) with the very same persons and policies
(no changes for the customers, for the privacy and for the data protection, even the privacy legal responsible person is the same one).
Today, AirVPN is operated exclusively by activists, privacy, data protection and security issues aware persons, law experts with the help of the same lawyers, and counts more than 200 servers with high bandwidth lines and good or top hardware in 35 datacenters across 19 countries in 3 continents. The solidity of the infrastructure is enhanced literally every week, so that most attacks
(UDP and TCP flood, DDoS...)
that caused service issues in the first AirVPN year of life now remain totally unnoticed to the users.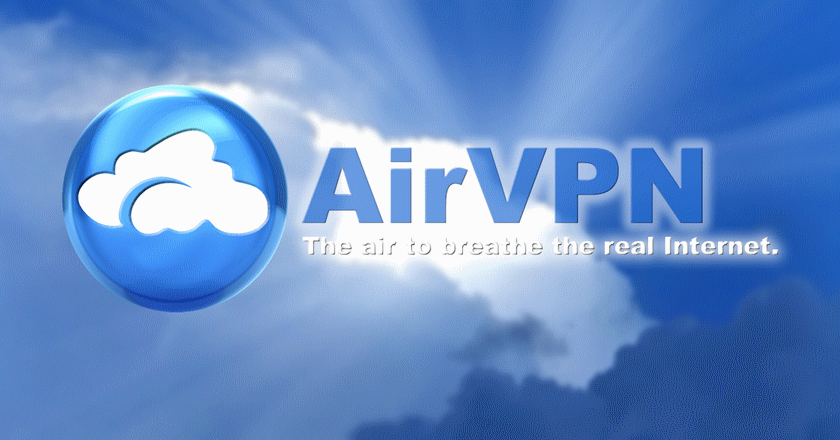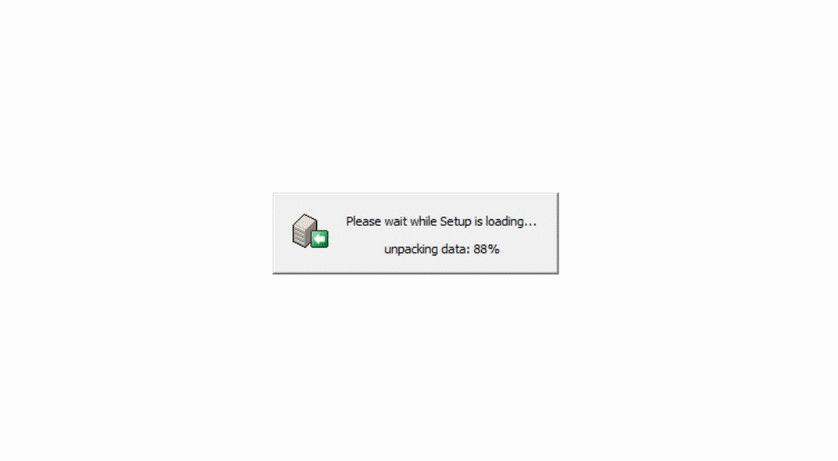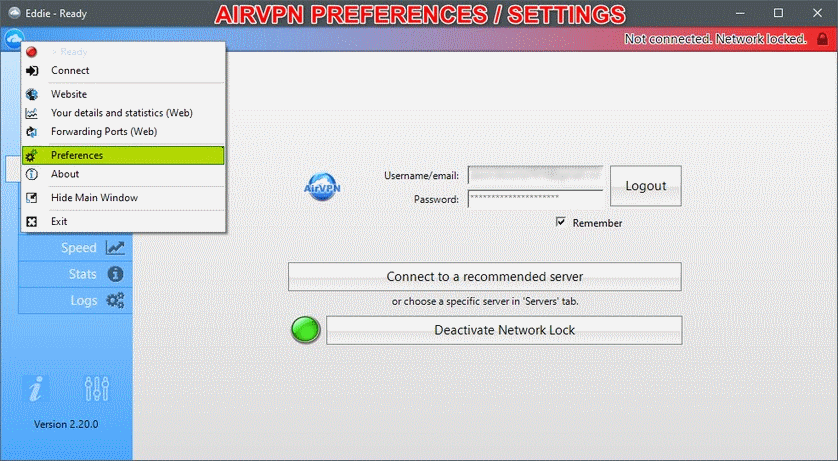 AirVPN provides features which might go unnoticed to the masses but which are important, such as separate entry and exit IP addresses on every VPN server to prevent some correlation attacks, typical on VPNs with a shared IP which is used both as entry and exit-IP address.
Through the years AirVPN has cemented itself as a reliable VPN with high-end security features which is budget-friendly as compared to other VPN services. AirVPN offers the user unlimited bandwidth on 200+ servers across 20 countries.  The user can also use P2P connections and it does not limit or throttle P2P connections thus  he
(the user)
can enjoy top speeds during torrenting.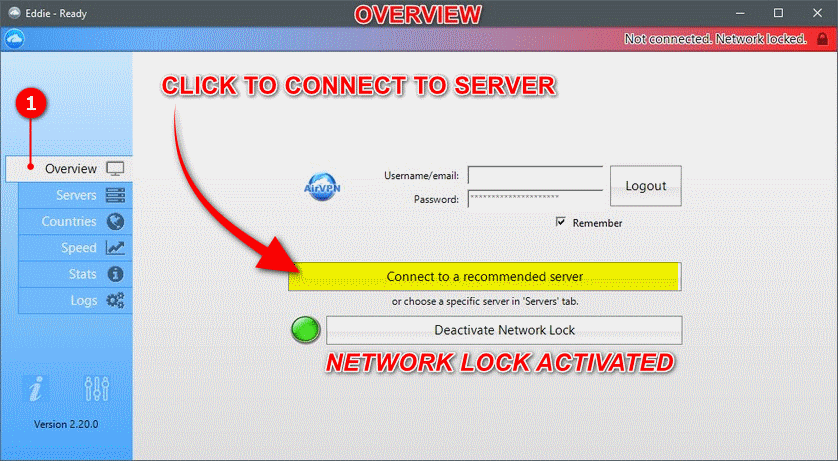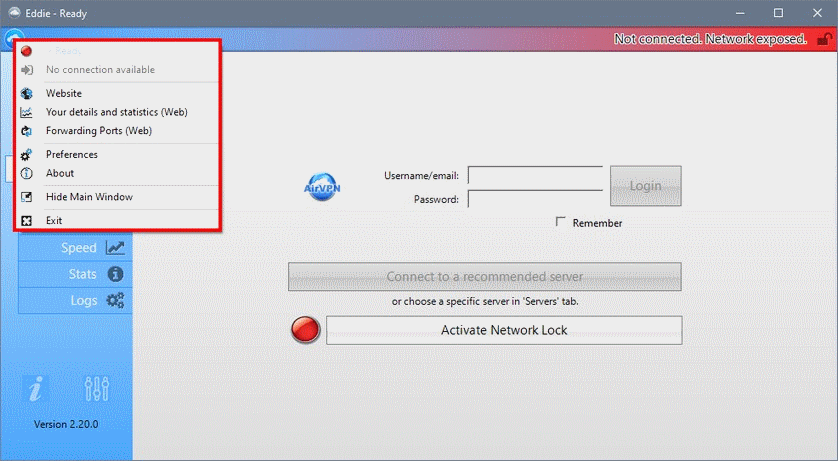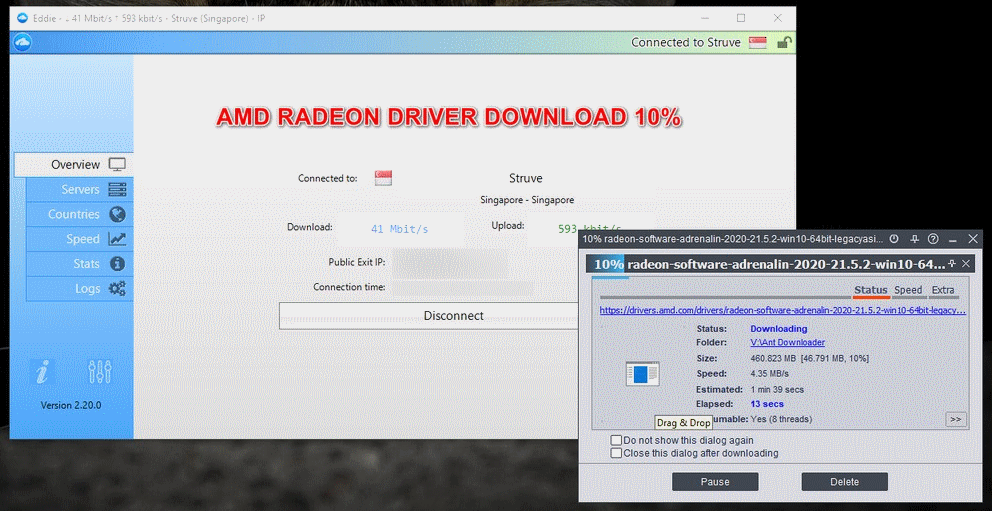 For an updated list of AirVPN achievements and donations, see
AirVPN Mission HERE
.   
No traffic limit. No time limit.

Access to all of our exit-nodes.




Five simultaneous connections

per account.




Unlimited

and free

servers switches

.




High performance servers

in many countries




No maximum speed limit

, it depends only on the server load (see here). Minimum allocated granted bandwidth:

4 Mbit/s download + 4 Mbit/s upload.






Every protocol

is welcome, including

p2p

. Forwarded ports and DDNS to optimize your software.




No personal information required.

When you open an account, you are not forced to enter any personal data, not even a real e-mail address.



Transparent policies on bandwidth allocation in order to give you an exact evaluation of the performance you can achieve: no overbooking, no overselling.




We use OpenVPN

to establish the connection between your computer and our servers. OpenVPN is the most reliable and secure solution for encrypted tunnels, offering a higher than military degree of security. Forget PPTP or other insecure protocols.


We offer OpenVPN on ports 80 TCP / UDP, 443 TCP / UDP and 53 TCP / UDP. Additionally, every Air server supports

directly OpenVPN over SSH, OpenVPN over SSL

and

OpenVPN over Tor

. This means that even the most brutal techniques of monitoring, censorship, throttling and traffic shaping will fail against AirVPN, because your ISP and your government will see only TCP or UDP traffic on a unique port.



Fully compliant with the European Union legal framework protecting your privacy: Directive on Data Protection (95/46/EC), Directive concerning the processing of personal data and the protection of privacy (2002/58/EC) and General Data Protection Regulation (EU Regulation 2016/579)



API - Application Programming Interface



Help us cover our mission

Surf Anonymously
Protection against snoopers, data miners and privacy intrusive entities  
Hide your IP

- Get a new IP address, so that nobody can discover your identity through it


No monitoring nor logging

of your online activities


Perfect Forward Secrecy

- Through Diffie-Hellman key exchange DHE. After the initial key negotiation, re-keying is performed every 60 minutes (this value can be lowered unilaterally by the client)

Additional connection types, supported by every Air VPN server, for ISPs or countries disrupting OpenVPN, are

OpenVPN over SSH, SSL

or

Tor



Stay protected with the security offered by high level encryption:

4096 bit RSA

keys size, AES-256-GCM Data Channel, HMAC SHA384 Control Channel

Make it

impossible to identify

the type of traffic or protocol you are using, even for your ISP.

Connect to any wireless network

without risking data eavesdropping

between your computer and the WiFi hotspot.

Defeat restrictions
Circumvent censorship, georestriction and traffic shaping.   
All protocols allowed

- No discrimination toward any service, protocol or application.


Internal VPN DNS

based on root servers anti-ICE/ICANN censorship


Port Forwarding / DDNS
 - Without port forwarding, the performance of some applications, for example BitTorrent and eMule clients, would be severely impaired and the services on your computer would not be reachable from the Internet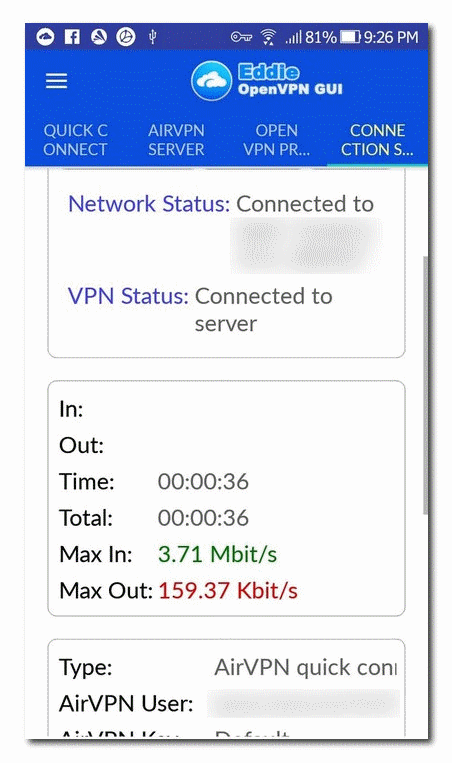 AirVPN licenses for this giveaway/contest
AirVPN has provided Geeks For Your Information Forum

five

(5 x 1 year) subscription licenses of AirVPN as contest prizes!
Everyone can join in this contest including approved

"new members"

. 


Note:

'new members' must have posted in the "Introduction" section HERE to qualify.
1. Please answer the question below.
"Share feedback to AirVPN (can be of their support service, application features or site content, etc.) and why do you want to win an AirVPN subscription license?"





Post your reply as contest entry

WITH

your social media share.  Please see sample entry below.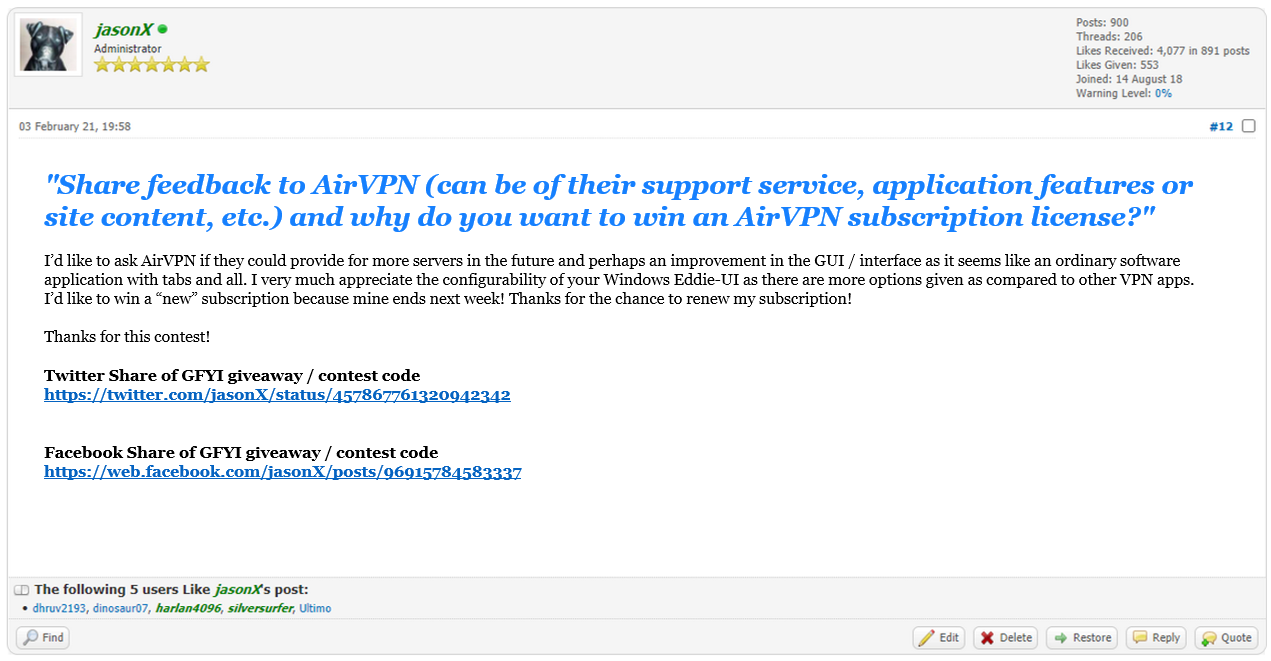 2.

REQUIRED:

Please share this giveaway by pasting the quoted text below in your Facebook/Twitter/Google+ Account.  

(Share is

NOT

limited to popular social media sites like Facebook, Twitter, Google+, and Instagram.)
Quote:Geeks For Your Information Forum [Official] AirVPN 2022 Giveaway 
https://www.geeks.fyi/showthread.php?tid=16822
Optional

(but greatly appreciated)

: Kindly like/follow

AirVPN's

social networking sites as added support.
3. One entry per IP address ONLY.

WE WILL BE CHECKING!



Only one entry per member is allowed. Dual entries will both be deleted and user will be banned from giveaway so

please be careful.



If there are any questions / concerns pertaining to the giveaway/contest please get in touch with me through PM.

Do not post it in this thread.

Doing so will merit a

warning

and ultimately be

banned

from entering further giveaway/contests.
Each of the five (5) winners will get

1-year subscription

of AirVPN
Winners will be selected via

random.org

and once posted,
winners will only have 5 days to send a PM to claim their prize. 
Please include your details (

Name / Email

) in your PM claim for proper licensing.
NO CONFIRMATION

FOR THOSE WITH INSUFFICIENT/INCOMPLETE DETAILS.
Prize will be

FORFEIT

if a PM claim is not received within the specified timeframe.
Prize will be

FORFEIT

if a PM claim is "not confirmed".
The Giveaway will run 
from March 10, 2022 to April 10, 2022