We at Geeks For Your Information are very pleased to announce our 


Ashampoo WinOptimizer 18

New Year 2021

Giveaway!
We would like to thank

Ashampoo Development GmbH & Co. KG.

for sponsoring us the giveaway prizes
Overview
Ashampoo WinOptimizer 18
is a system optimization suite that takes care of the weak spots in every Windows machine. The program boosts the performance, fixes system errors and reduces file clutter. Ashampoo WinOptimizer 18 makes Windows PCs faster, cleaner and safer. The built-in cleaners are among the most popular features and safely remove web browsing traces, junk files and installation leftovers to free up valuable disk space. 
AntiSpy
and
Privacy Control
put a muzzle on Windows telemetry broadcasts and protect your privacy. Three automatic modules reduce clutter, speed up Windows startup times and program launches and optimize gaming performance. For better system performance and PC stability, WinOptimizer also fixes Registry errors, removes broken shortcuts and disables unnecessary background processes and Autostart entries. Several analysis tools that display detailed information about installed hard and software and that track down resource hogs have been included for better system transparency. The tweaking module allows for individual Windows customization and will surely please PC tuning fans. 
Browser Extension Manager
lists each and everyone of your browser add-ons and extensions, including hidden, and often malicious ones. All installed extensions are listed and gives you the choice to delete them. It only takes a single click to rid your browsers of a malicious extension and make browsing the web a little safer!
WinOptimizer 18 features dashboards for instant feature access and absolute informational clarity that cover the areas of system cleaning, optimizing and analyzing.
Dashboards
are the quickest way to get a detailed picture of your system and to instantly access essential features. "Clean, optimize and inform" always has the latest details on these vital tasks–including full feature access! There's no longer any need to manually open modules to get the whole picture! You'll find valuable details like status updates on your Registry, dubious services or privacy threats, all neatly arranged. Once you spot and area that requires action, a single click will take you right to the affected module.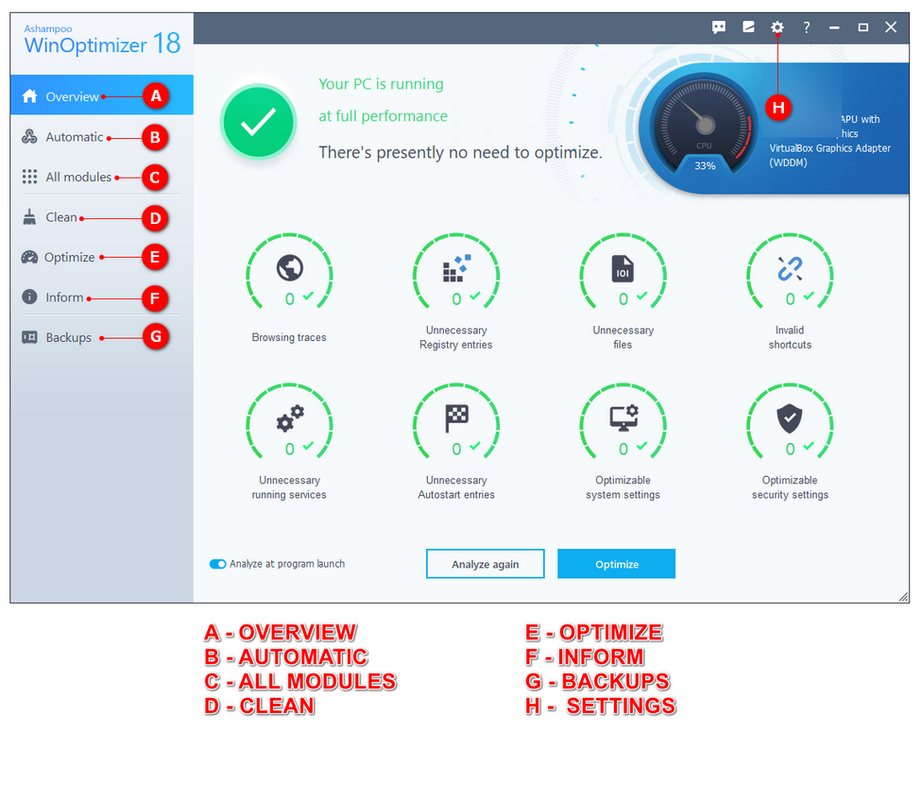 Defrag
has been completely revamped and optimized for high performance and low resource consumption. The new Defrag builds on the already available Windows algorithm and takes it to the max! Merge free space to shorten access times, automate drive analysis and defragmentation and have the process run in the background at low priority for uninterrupted use of your PC. The
new Defrag is SSD-ready
: Retrim makes sure your drive is used to its full capacity while ensuring high performance and long life!
For the first time,
Benchmark Center
bundles all performance-related tests in a single easily accessible location. System Information has been significantly extended and updated to support the latest hardware and provide even more in-depth information.   
Ashampoo WinOptimizer 18 is the first to support the new Microsoft Edge Chromium. Internet Cleaner now uses a new algorithm to detect junk files more efficiently and in all browser-related save locations. Reclaim precious disk space and use our new cleaners to eliminate web browsing traces, redundant files and useless Registry entries! All features are instantly accessible through the "Clean" dashboard!
FEATURES AT A GLANCE:
New more efficient Defrag

Dashboards for up-to-date overviews on essential details

Accelerate and slim down your system

Reclaim disk space efficiently

Maintain hard disk and system health

Handy task scheduler for maintenance and optimization

Powerful browser extension management

Ashampoo WinOptimizer 18 SETTINGS
Ashampoo WinOptimizer 18 provides 11 settings for full optimization of the user's system.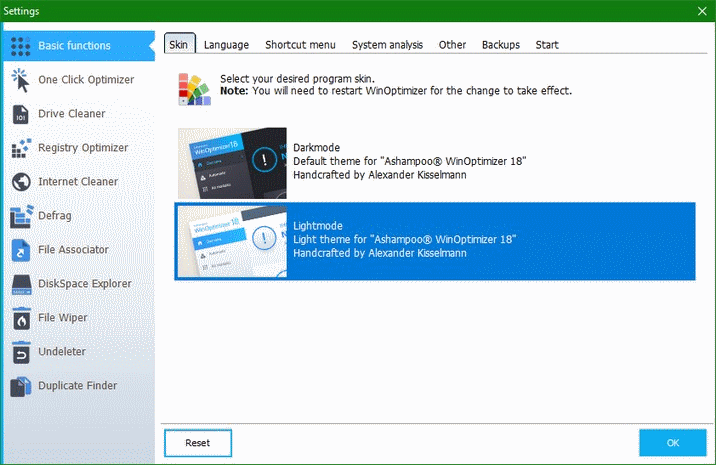 Basic functions



User can use these settings to select a different program language or a change in look via "skins".



One Click Optimizer



Sets "One Click Optimizer" options on how-to run and specify whether found issues should be  fixed automatically.



Drive Cleaner



Sets what information will Drive Cleaner scan and should clean. User may also select  files/folders to be excluded from scans.




Registry Optimizer



Sets which file elements to include in scans and what local drives should be scanned. User can also remove exceptions created using the context menu in Registry Optimizer.




Internet Cleaner



Sets what scanned file types to be deleted for each browser. Secure cookie list is also set here. 




Defrag



Specify the level of fragmentation that will be used for a specified drive. If he prefers, user can also activate boot time defragmentation to defragment  files usually used by Windows once its launched before the boot process has commenced.




File Associator



These settings allows the user to select the formats that will be listed for each  file extension category. To include a  file type, user simply add its extension to the desired category (use commas to separate multipfile formats).




DiskSpace Explorer



User can adjust the visual representation of  file distribution here. "Number of chart sections", how many parts a diagram, (re: a pie chart, can
consist of). User may adjust the lists of formats used for each category such as "Audio  Files" or "Documents" and even create his own custom category/group.




File Wiper



User can select the deletion method to be used by the module here. The default set is "DoDD 5220.22-M (seven write iterations; extremely difficult to restore). 




Undeleter



This is where the user can set options (folder structures and the like) to be used for effective file restoration. 




Duplicate Finder



Set options here to what should be scanned and exclusion of single file formats to make an effective scan of duplicate files. 

A.

OVERVIEW
The Ashampoo WinOptimizer "Overview" displays the CPU usage gauge and an Analyze button. The user can check all unnecessary files, broken registry entries, invalid shortcuts, and browser traces such as cookies and history files here in one view.   
B.

AUTOMATIC
Ashampoo WinOptimizer offers automatic features for optimizing the user's system. Along with that, WinOptimizer shows the user the history of all actions done
(as well as backing up everything that it does so it will be easy to "go-back" to previous state via "Backups")
. Automatic features offered are: (i) Auto-Clean, (ii) Live-Tuner, and (iii) Game Booster.  A tray icon will be shown when automatic features are enabfiled. User can just right-click the icon to access the settings for each feature.  
Auto-Clean



Auto-Clean removes application-related "temporary  files" as soon as the applications are closed to regain disk space. Running applications store these temporary File / data and as they run they continue to take up space even applications are closed/exited. 



Live-Tuner



Live-Tuner adjusts process priorities to speed up application launches.



Game-Booster



Game-Booster automatically terminates all processes/applications that are non-essential to the game to free up resources thus preventing slow down of the user's games. 

C.

ALL MODULES
Ashampoo WinOptimizer 18 has 6 modules
(functions)
compfilete with all the necessary tools that any user will need to maintain and optimize his system. A "switch view" toggfile is provided at the upper-right corner of the "All modules" interface / dashboard. this "switch view" is for the user and can be, say, "Switch view =
ON
-- functions" is tailored for the new user. This is the "use-case" method
(detailed view of functions)
to aid him in what he wants to do. The "Switch view =
OFF
-- all modules"
(quick overview)
is more for the familiar or  intermediate user (those who know a thing or two about optimization/tweaking). The colfilection of functions / modules will help te user manage all common PC settings, optimization as well as system information and improved tools (Windows tools based). 
The six (6) modules are: (i) Maintain system, (ii) Improve performance, (iii) Customize Windows, (iv) Analyze system, (v) File tools, and (vi) Administrative tools.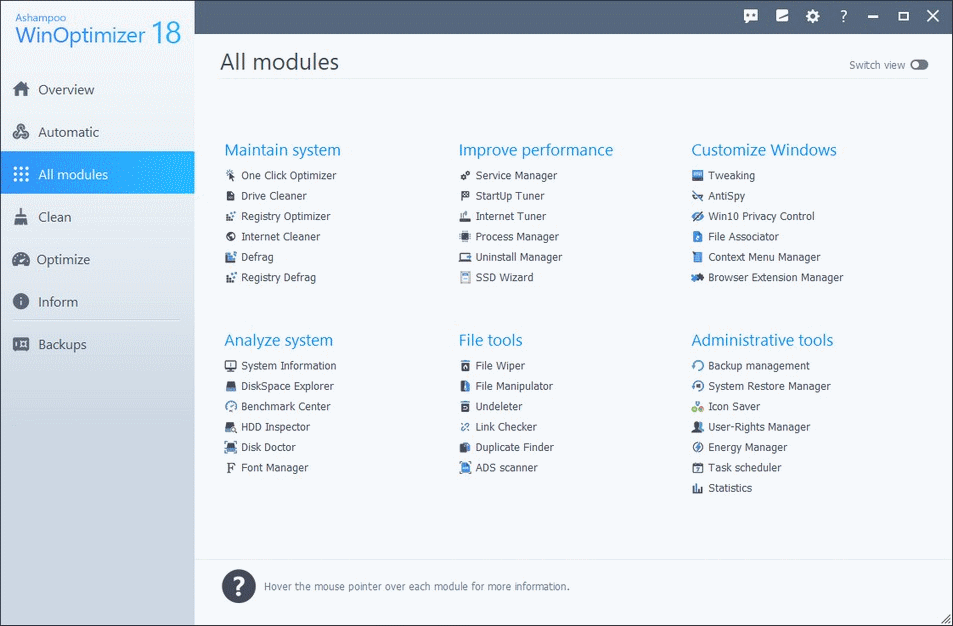 (i)

Maintain system
One Click Optimizer

Drive Cleaner

Registry Optimizer

Internet Cleaner

Defrag

Registry Defrag

(ii)

Improve performance
Service Manager

StartUp Tuner

Internet Tuner

Process Manager

Uninstall Manager

SSD Wizard

(iii)

Customize Windows
Tweaking

Tweaking allows the user to customize various system settings. There are 10 tweaking categories the user can choose to "tweak", (i) Windows Logon, (ii) Devices, (iii) Drives, (iv) System, (v) Desktop, (vi) Explorer, (vii) Internet Explorer, (viii) Mozilla Firefox, (ix) Other Software, and (x) Windows 8 and higher. User just needs to select his desired category and use the tabs to navigate through each category. To set the tweak user just needs to click "Apply". A restore feature is present to restore the original settings.
 

AntiSpy

Win10 Privacy Control

File Associator

Context Menu Manager

Browser Extension Manager

(iv)

Analyze system
System Information

The "System Information" module provides various informative details of the user's PC hardware including installed applications. A report can be generated via "Create Report". Details of the report can be viewed in the user's browser (HTML file). 
 

DiskSpace Explorer

Benchmark Center
 

(i) System Benchmark



This module can benchmark the performance of your PC and compare it to other results online. User needs to click "Run benchmark" to start benchmarking process and (click) "Compare online" to compare your results to other machines.



(ii) HDD Benchmark



This module can benchmark the read/write speeds of your disk drives. User needs to click "Start" to benchmark the selselected drive and "Compare online" to compare your results against other drives.




HDD Inspector

Disk Doctor

Font Manager

(v)

File tools
File Wiper

File Manipulator

Undeleter

Link Checker

Duplicate Finder

ADS scanner

(vi)

Administrative tools
Backup management

System Restore Manager

Icon Saver

User-Rights Manager

Energy Manager

Task scheduler

Statistics

D.

CLEAN
"Clean"
(as the word implies)
module helps you Clean the Registry, remove web browsing traces and to track down no longer needed  Files.
E.

OPTIMIZE
User can speed up boot times, defragment mechanical hard disks for faster access times and adjust essential privacy settings for added protection.
F.

INFORM
This dashboard provides essential details about your instalfiled hardware and software. All relative information can be accessed in this module. 
G.

BACKUPS
Use this module to undo changes made by WinOptimizer should the changes have lead to undesired / untoward system behavior. Backups are done automatically after each optimization. User can set suto-delete backup in the settings.   
Latest version build is Ashampoo WinOptimizer 18 version: 18.00.16 (2020/06/12)
New:
Dashboards for always up-to-date and instant features access

Instant access and always up-to-date information with dashboards

Merge free disk space with Defrag

Extensive drive analysis and hardware review with Defrag

Improved:
Completely intuitive user interface 

Enhanced Browser Extension Manager    

Updated search algorithms for all cleaner modules 

Remove internet traces with Internet Cleaner 

Clean hard disks with Drive Cleaner 

Optimize Windows Registry with Registry Optimizer 

Enhanced system details view with optimized hardware detection 

Get detailed system information     

Ashampoo WinOptimizer 18 — System tuning, Cleaning and details in one program!
Ashampoo WinOptimizer 18 — System tuning, Cleaning and details in one program!
System optimization with Ashampoo WinOptimizer 18
Ashampoo WinOptimizer 18 licenses for this giveaway/contest
Ashampoo Development GmbH & Co. KG. has provided Geeks For Your Information Forum

five

(5) licenses of Ashampoo WinOptimizer 18

New Year 2021

contest prizes!
To boost forum participation/contribution, all who wish to participate

MUST

have posted in the Introduction thread

AND

created a minimum of

three

(3) threads and

five

(5) posts

(threads in sections: (i) Giveaways / Contests (ii) Deals and (iii) Geeks FYI > Feedback (iv) Introduction are NOT COUNTED as created authored-threads).

Entries not meeting the requirement will be deleted. 

Members with on-going "

warnings

" will

NOT

be allowed to join any giveaways until such "

warnings

" have been lifted.

WE WILL BE CHECKING!
1. Please answer the question below.
"Share feedback to Ashampoo about Ashampoo WinOptimizer and why do you want to win an Ashampoo WinOptimizer 18 license"
Post your reply as contest entry

WITH

your social media share.  Please see sample entry below.
2.

REQUIRED:

Please share this giveaway by pasting the quoted text below in your Facebook/Twitter/Google+ Account.  

(Share is

NOT

limited to popular social media sites like Facebook, Twitter, Google+, and Instagram.)
Quote:Geeks For Your Information Forum [Official] Ashampoo WinOptimizer 18 10 New Year 2021 Giveaway
https://www.geeks.fyi/showthread.php?tid=13921
Optional:

You may want to like/follow

Ashampoo's

social networking sites as added support.
3. One entry per IP address ONLY.

WE WILL BE CHECKING!



Only one entry per member is allowed. Dual entries will both be deleted and user will be banned from giveaway so

please be careful.



If there are any questions / concerns pertaining to the giveaway/contest please get in touch with me through PM.

Do not post it in this thread.

Doing so will merit a

warning

and ultimately be

banned

from entering further giveaway/contests.
Each of the

five

(5) winners will get one Ashampoo WinOptimizer 18 license
Winners will be selected via

random.org

and once posted,
winners will only have 5 days to send a PM to claim their prize. 
Please include your details (

Name / Email

) in your PM claim.
NO CONFIRMATION

FOR THOSE WITH INSUFFICIENT/INCOMPLETE DETAILS.
Prize will be

FORFEIT

if a PM claim is not received within the specified timeframe.
Prize will be

FORFEIT

if a PM claim is "not confirmed".
The Giveaway will run 
from January 11, 2021 to February 5, 2021