We at Geeks For Your Information are very pleased to announce our 


Ashampoo UnInstaller 10

New Year 2021

Giveaway!


We would like to thank

Ashampoo Development GmbH & Co. KG.

for sponsoring us the giveaway prizes


Overview
Ashampoo UnInstaller 10
helps the user install, test and remove software without leftovers–and without any worries whatsoever! UnInstaller 10 monitors each installation encompassing all apps that is installed in the user's pc system. It allows the user to perform deep/complete removal of any application if the user desires! Every applications is completely monitored
(even unmonitored installations)
and all are completely reversible thanks to UnInstaller's four-way uninstallation method plus in-depth cleaning. Unwanted software, browser extensions and toolbars are completely gone in a single click with UnInstaller 10! And the new
Impact
section shows the user exactly which program affects the performance of the user's system–clearly and instantly. The "snapshot" technology will show the user exactly every single modification to the user's files and Windows Registry! The smartly designed user interface ensures all essential features are never more than one click away. With UnInstaller, even complex technical procedures are self-explanatory. Remove software completely and without leftovers, monitor new installations fully automatically, gain new insights into the inner workings of any PC! 
Ashampoo UnInstaller 10 rids your PC of no longer needed or sub-par applications–but it also gets rid of all the nasty programs that were secretly snuck onto your PC! Download portals love to bundle their software with "add-ons" that border on spy or malware. These potentially unwanted programs (PUP), often disguised as toolbars or little helpers secretly install itself in the user's system and they are difficult to remove along with its traces. Now with Ashampoo UnInstaller 10 the user can rest assured that all will be well. UnInstaller 10 will detect nested installers and wipes them off at the user's leisure!
Ashampoo UnInstaller 10 combines four different techniques to eliminate installations down to the last byte. Log files created during installations are the most extensive approach, since every file and Registry modification is recorded. Uninstall scripts provided by each program are also factored in. If a dedicated profile is available in the built-in database, it will also be processed. Finally, a revolutionary "deep system scan" is run following the uninstall procedure to detect and eliminate any leftover files and Registry entries! No need to reboot!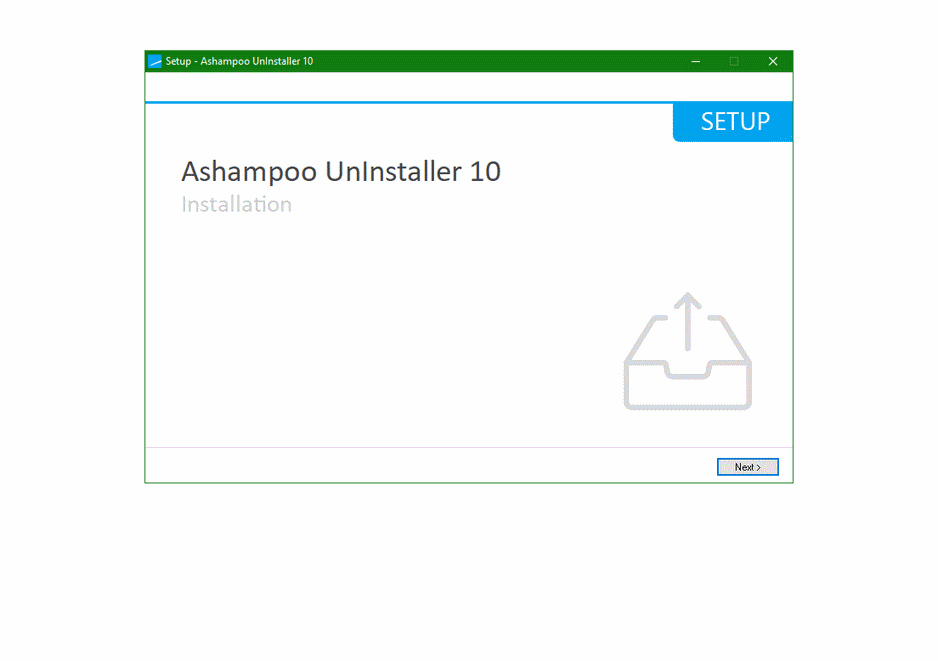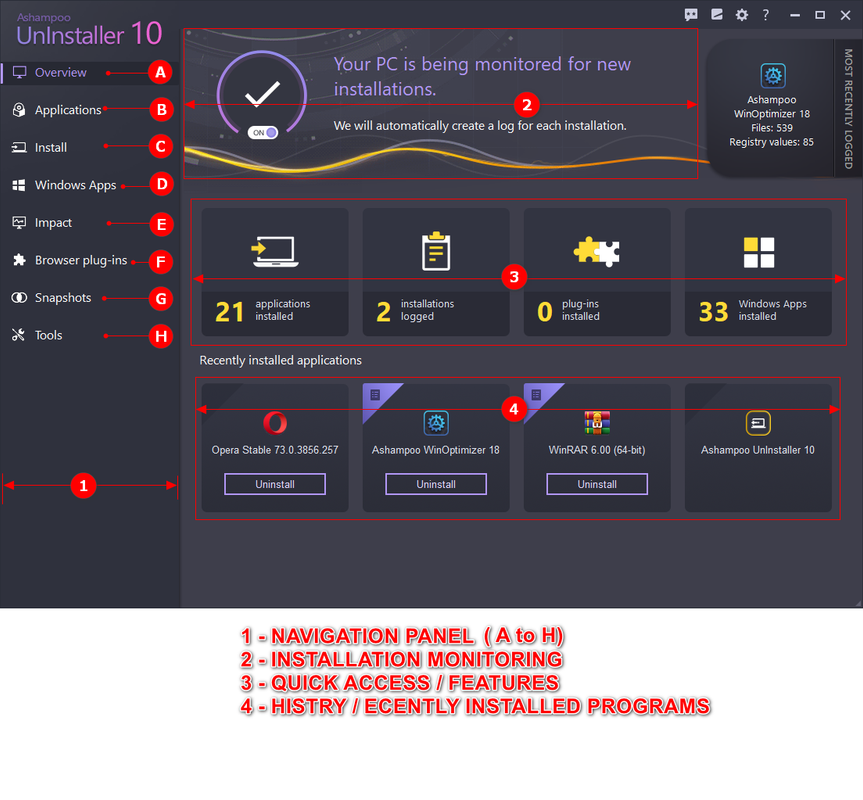 Deep Cleaning technology
Ashampoo UnInstaller 10 features end-to-end installation tracking to guarantee complete removals. This includes shady programs usually hidden from the user's system. Even unmonitored installations are fully removed, with UnInstaller 10's smart algorithms and "Deep Clean" technology. This ensures orphaned files and entries that would otherwise remain on the user's hard disk are completely eliminated! UnInstaller 10 goes further and beyond to protect the user's privacy too! UnInstaller 10 not only deletes but shreds these files, rendering them irrecoverable even for specialist tools. And best of all, Ashampoo UnInstaller 10's deletion methods are based on military-grade security standards! So goodbye remnants of all sorts!
Features at glance:
Visualize impact of applications on system

Full support for new Chromium based Edge browser

Unlock and delete locked files with Unlocker

Fully updated cleaners

Enhanced stability optimized program driver

Deep Clean technology v2 with even better results

Database with uninstall profiles for hard to remove programs

New extra thorough uninstall algorithm

A.

Overview
The overview (first page) shows the general overview of your system as assessed by Ashampoo Uninstaller 10. All the more important here is the "Quick features", where you will see the current status of installed programs, plugins etc., and the "History" where the "most recently installed programs" are listed including uninstall buttons for the user to access it immediately. Installation of new apps are or can be monitored by Ashampoo Uninstaller 10 if user ticks the toggle to "ON". 
B.

Applications
The "Applications" provides the list of all applications currently installed on the user's PC. Use the subtopics to alter the last,
(by size)
. User just needs to "click"
(to select)
an entry to uninstall the selected program or to uninstall several applications, use the check boxes to select them towards uninstall process. User just needs to click "Uninstall" for the uninstall process to proceed. User can also uninstall recently installed applications using the corresponding buttons for the list of most recent installations on the overview page. User can use the drop-down "Filter" menu can be used
(located at the top portion of the interface)
to aid the user making it easier to search specific items. The "Filter" menu provides to hide common frameworks, redistributables and the like.   
All

Recently installed

Logged

Huge

Negatively rated

Updates

Uninstalled

C.

Install
Application installation is "usually" monitored by Ashampoo UnInstaller but in case auto-detection fails, the install "trigger "springs into action when an ".exe"
(installation file)
is dragged into the install area. Or,
(if user wants)
he may click "Browse" to select the install file manually. 
If monitoring is enabled, user can also right-click the corresponding icon in the Windows notification area to access the context menu and use "" to manually trigger new installations. Alternatively, he, the user can also left-click the icon.  During installations, a "notification" at the top of your screen can be seen signifying that the installation is being monitored. User can manually stop the logging process by clicking "Installation completed". 
D.

Windows-Apps
This module list all installed "Windows apps" including system apps and allows the user to remove them using Ashampoo UnInstaller.
Note that Windows-default apps can only be restored by reinstalling Windows.
All

Recently updated

Huge

Negatively rated

E.

Impact
Impact is a new module that visualizes the impact installed software has on system performance. "Impact" lists the programs that have the biggest impact on the performance of your PC. Several factors,
(like CPU and memory load)
, are factored in to determine the order. This aids the user in determining how to optimize his system or just simply tells him what are the apps that poses a hindrance to an optimized performance.
F.

Browser plug-ins
This module lists all "browser plugins" for your installed browsers. Use the left categories to filter results by browser manufacturer. User can either click an entry to uninstall a selected plugin or use the check boxes to uninstall several applications in a row. User needs to click "Uninstall" to start the removal process.
Note: Portable browsers are not included.
Internet Explorer

Google Chrome

Mozilla Firefox

Microsoft Edge

Microsoft Edge Chromium

Opera

Negative rated

G.

Snapshots
Snapshots document the current state of the user's PC system at the time of creation. By comparing two snapshots, a user may effectively trace any modifications for a selected time period. This will aid the user to discern and diagnose software and hardware issues. 
H.

Tools
These are collection of tools that help the user clean system, remove no longer needed and leftover files and defragment the hard drive(s). Note that some modules that delete files and folders will always move them to the recycle bin first with the exception of "File Wiper". This allows the user to restore files/folders in the event of malfunctions.
Note that this is only applicable if the user has NOT set the recycle bin to always delete files.
Registry Optimizer always creates backup. If the user experiences any issues once cleaning is finished, he can always "revert" any changes through "Backups".   
Drive Cleaner

Registry Optimizer

Internet Cleaner

StartUp Tuner

Service Manager

Undeleter

File Associator

File Wiper

Registry Defrag

Backups

Unlocker

Latest version build is Ashampoo UnInstaller version 10.00.13 (06-November-2020)
NEW
Visualize impact of applications on system    

Unlock and delete locked files with Unlocker    

Deep Clean technology v2 with even better results    

New extra-thorough uninstall algorithm    

Database with uninstall profiles for hard to remove programs    

Fully-updated cleaners    

IMPROVED
Enhanced stability-optimized program driver    

Ashampoo UnInstaller 10–Uninstall programs, apps and browser extensions without leftovers
Ashampoo UnInstaller 10–Uninstall programs, apps and browser extensions without leftovers
Ashampoo UnInstaller 10 - Eliminate unwanted programs thoroughly and without compromise
Ashampoo UnInstaller 10 licenses for this giveaway/contest
Ashampoo Development GmbH & Co. KG. has provided Geeks For Your Information Forum

five

(5) licenses of Ashampoo UnInstaller 10

New Year 2021

contest prizes!
To boost forum participation/contribution, all who wish to participate

MUST

have posted in the Introduction thread

AND

created a minimum of

one

(1) authored-threads and

five

(5) posts

(threads in sections: (i) Giveaways / Contests (ii) Deals and (iii) Geeks FYI > Feedback (iv) Introduction are NOT COUNTED as created authored-threads).

Entries not meeting the requirement will be deleted. 

Members with on-going "

warnings

" will

NOT

be allowed to join any giveaways until such "

warnings

" have been lifted.

WE WILL BE CHECKING!
1. Please answer the question below.
"What is your current

uninstaller

application and why do you want to win an Ashampoo UnInstaller 10 license?"
Post your reply as contest entry

WITH

your social media share.  Please see sample entry below.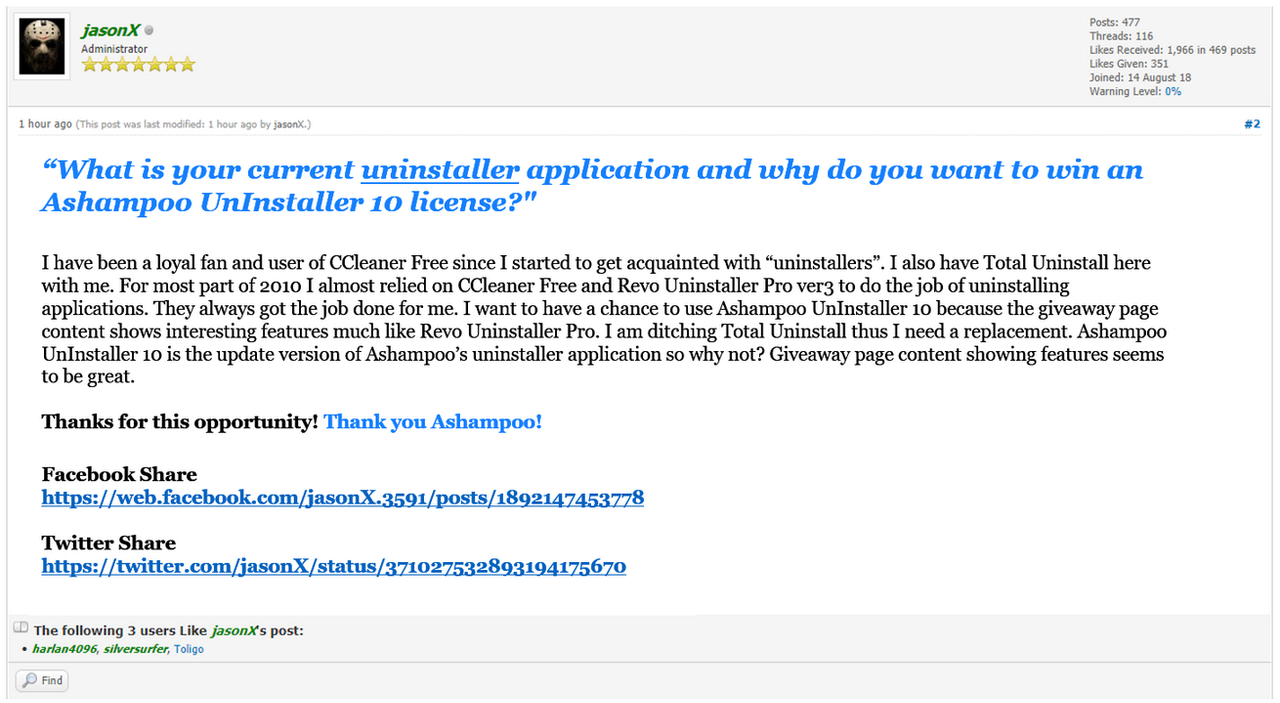 2.

REQUIRED:

Please share this giveaway by pasting the quoted text below in your Facebook/Twitter/Google+ Account.  

(Share is

NOT

limited to popular social media sites like Facebook, Twitter, Google+, and Instagram.)
Quote:Geeks For Your Information Forum [Official] Ashampoo UnInstaller 10 New Year 2021 Giveaway
https://www.geeks.fyi/showthread.php?tid=13920
Optional:

You may want to like/follow

Ashampoo's

social networking sites as added support.
3. One entry per IP address ONLY.

WE WILL BE CHECKING!



Only one entry per member is allowed. Dual entries will both be deleted and user will be banned from giveaway so

please be careful.



If there are any questions / concerns pertaining to the giveaway/contest please get in touch with me through PM.

Do not post it in this thread.

Doing so will merit a

warning

and ultimately be

banned

from entering further giveaway/contests.
Each of the

five

(5) winners will get one Ashampoo UnInstaller 10 license
Winners will be selected via

random.org

and once posted,
winners will only have

3 days

to send a PM to claim their prize. 
Please include your details (

Name / Email

) in your PM claim.
NO CONFIRMATION

FOR THOSE WITH INSUFFICIENT/INCOMPLETE DETAILS.
Prize will be

FORFEIT

if a PM claim is not received within the specified timeframe.
Prize will be

FORFEIT

if a PM claim is "not confirmed".
The Giveaway will run 
from January 11, 2021 to February 10, 2021