We at Geeks For Your Information are very pleased to announce our


EaseUS Partition Master Professional

Halloween 2020

Giveaway!
We would like to thank

EaseUS Software

 
for sponsoring us the giveaway prizes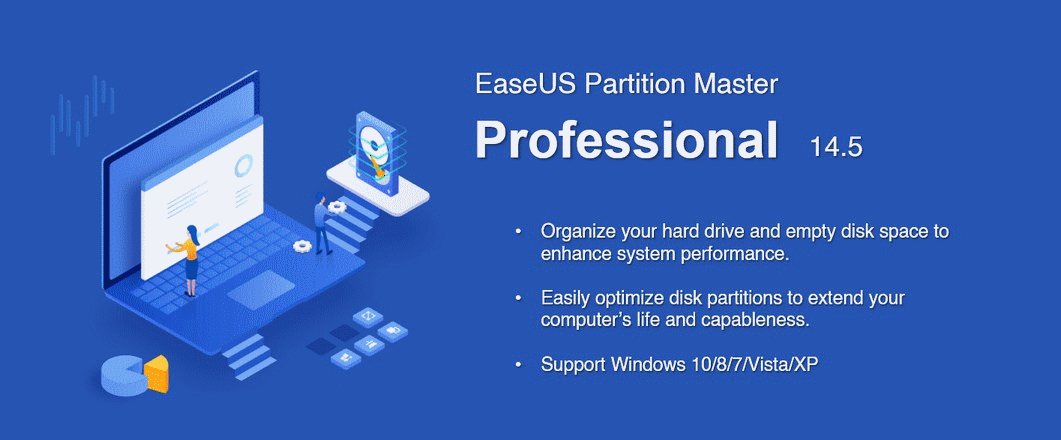 EaseUS Partition Master [Introduction]
EaseUS Partition Master Professional
is comprehensive hard disk partition management tool and system partition optimization software. It is an all-in-one PC disk management application for every user, IT professional, system administrator, technician and consultant to provide technical service to clients with unlimited usage. With EaseUS Partition Master Professional you can easily create, delete partitions on your hard disk plus resize/move partitions or volumes making efficient use of free hard disk space. Drive/partition duplication via EaseUs Partition Master Professional's Clone Disk/Clone Partition enables easy and successful transfer of all "on-disk" information including bootstrap code and other system service structures to a "destination disk" thus maintaining OS's working capability.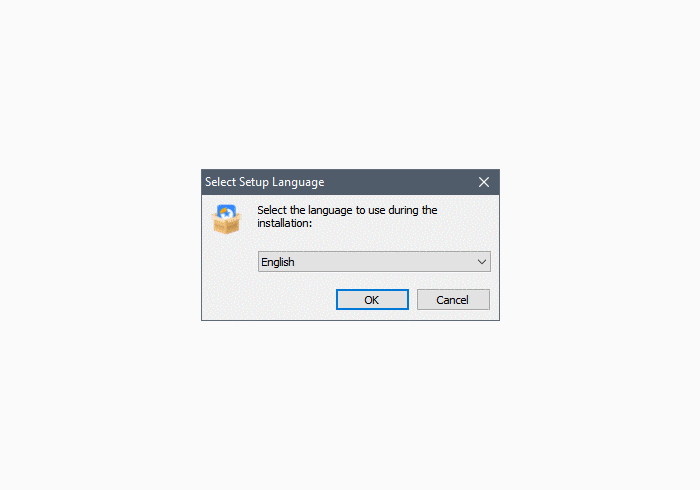 EaseUS Partition Master Professional also has some additional tools such as the ability to migrate Windows OS, helps you transfer data and configurations on boot partitions to new/different SSD or HDD without Windows system reinstallation. For protection you can set password for any partition you deem fit to secure. This is a feature not many partitioning software has. As added feature a "Cleanup and Optimization" is available to keep your system clean and fast. This feature removes unused files from your system and clean internet history.  
Key Features:
Create partition without any losing data.

Recover deleted or lost partitions after the re-partitioned hard drive.

Copy disk and partition with fast technology

Allows you to repartition, recover your disk with ease and keeps your PC/laptop/Server running at its best.

Create, edit, move and merge partition.

Help system admins to manage disk space while delivering technical service to clients.

Recover deleted partitions from unallocated space due to any hardware or software failure or malware attack.

Run your business easily with EaseUS disk management and take full potential of the hard disk.

Convert disk and disk file system.

Conduct a personal partition plan on your hard drive to make full use of disk space.

Manage disk space easily.

Support all, hard disk, GPT, and USB.

Copy Disk/Partition Easily clone disk and volumes to protect data or upgrade hard disk, no Windows system reinstallation required.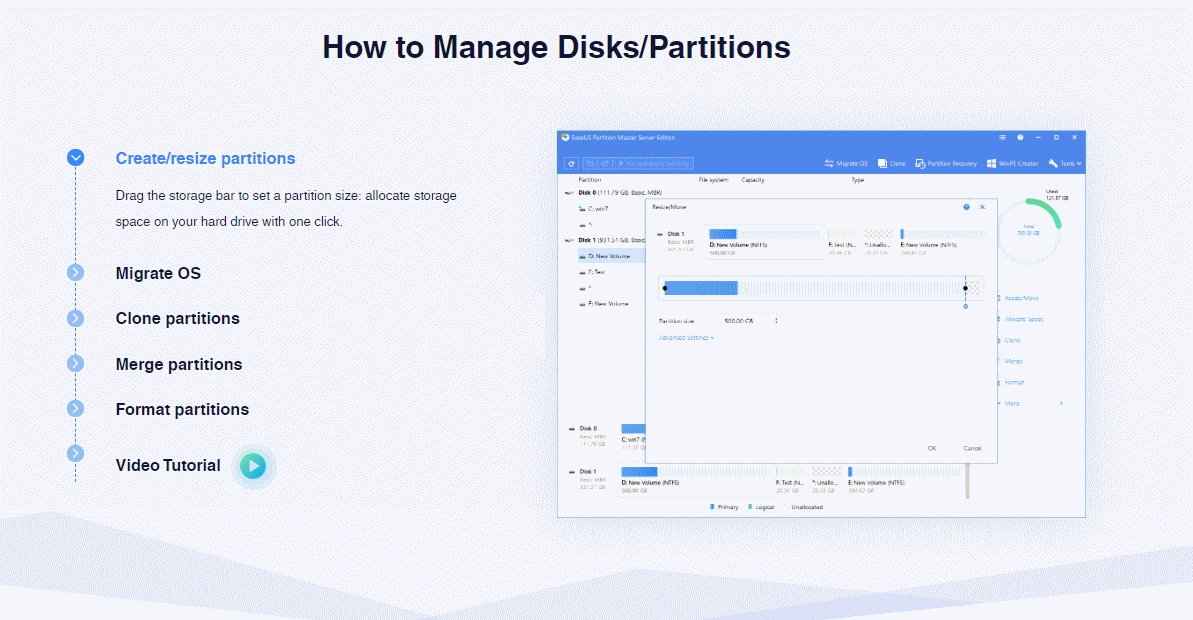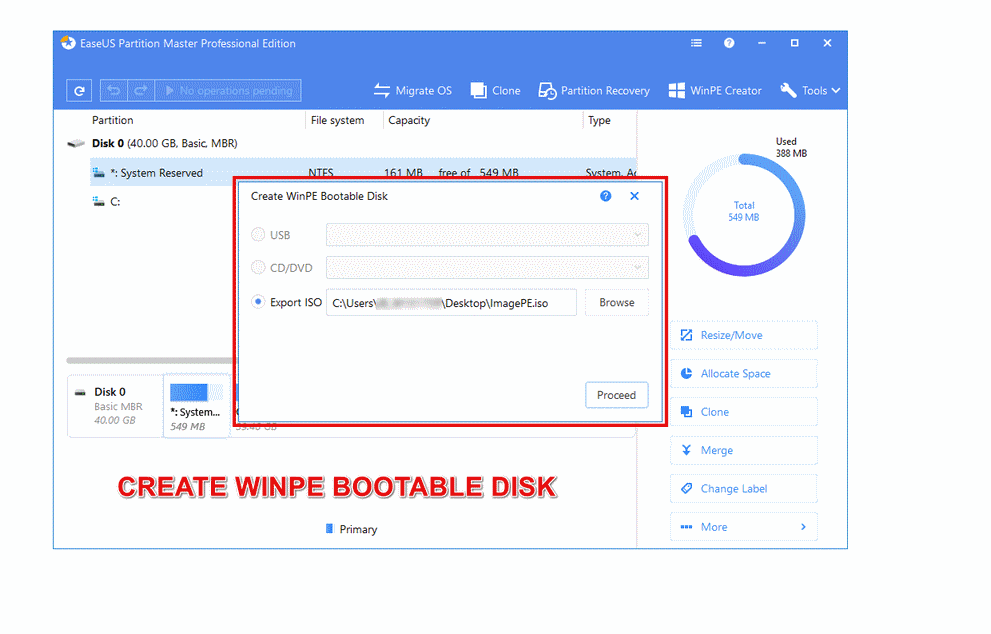 EaseUs Partition Master comes in 4 variants (editions): (a) EaseUS Partition Master FREE, (b) EaseUS Partition Master Professional, © EaseUS Partition Master Server, and (d) EaseUS Partition Master Unlimited.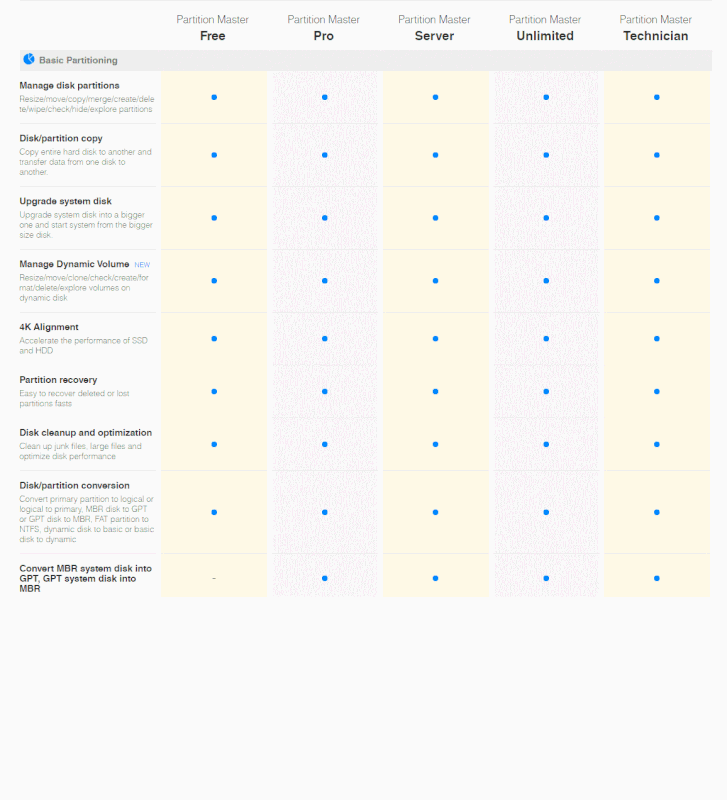 Resizing/Moving Partition under Boot Mode
Precautions Before Resizing/Moving Partitions
In order to ensure a smooth and successful operation process and data protection, user should check the tips below before resizing/moving your partitions.  
When running EaseUS Partition Master, please close all other applications including the antivirus software and the firewall.



Please check your disk as below first:




(a) Right click the partition which you want to resize in 'My Computer', and click 'Properties' > 'Tools' > 'Defragmentation', and then click 'Defragment Now…'





(b) Right click the partition which you want to resize, and then click Properties > Tools > Error-checking > Check Now… Choose both options, and click Start to continue.




The resize operation needs some free space, so we recommend you to remain 10% free space. If the free space is not enough, you can move some data to another space; and after the resize operation is completed, you can copy the data back.



4. If there are too many files on the partition needed to move, it will take a long time to do that, so we recommend you to firstly move your files to another space manually; and after the resize operation is completed, you can copy the data back then. It also can protect your data.



If possible, please backup all your important data.



Please do not do any change to the hidden partition before the primary partition

(in some brand computers, especially for laptops)

in case of operation failure.

Latest version build is EaseUS Partition Master version 14.5 (8-July-2020)
Changes:
Enhanced smart partition resizing

Added Automatic conversion of GPT function

Fixed bug

EaseUS Partition Master Pro
Offline activation [EaseUS Partition Master]
How to Extend C Partition with EaseUS Partition Master
How to Interconvert Dynamic Disk and Basic Disk
EaseUS Partition Master Professional  prizes for this giveaway/contest
EaseUS has provided Geeks For Your Information Forum five (5) licenses of EaseUS Partition Master Professional  as contest prizes
To boost forum participation/contribution, all who wish to participate MUST have created a minimum of

1 thread and 3 posts

(threads in sections: (i) Giveaways / Contests (ii) Deals and (iii) Geeks FYI > Feedback are NOT INCLUDED).

Entries not meeting the requirement will be deleted.

WE WILL BE CHECKING!
1.
Please answer the question below.  



"WHAT is your current partition software and WHY do you like in EaseUS Partition Master Professional license?"



Post your reply as contest entry

WITH

your social media share.  Please see sample entry below.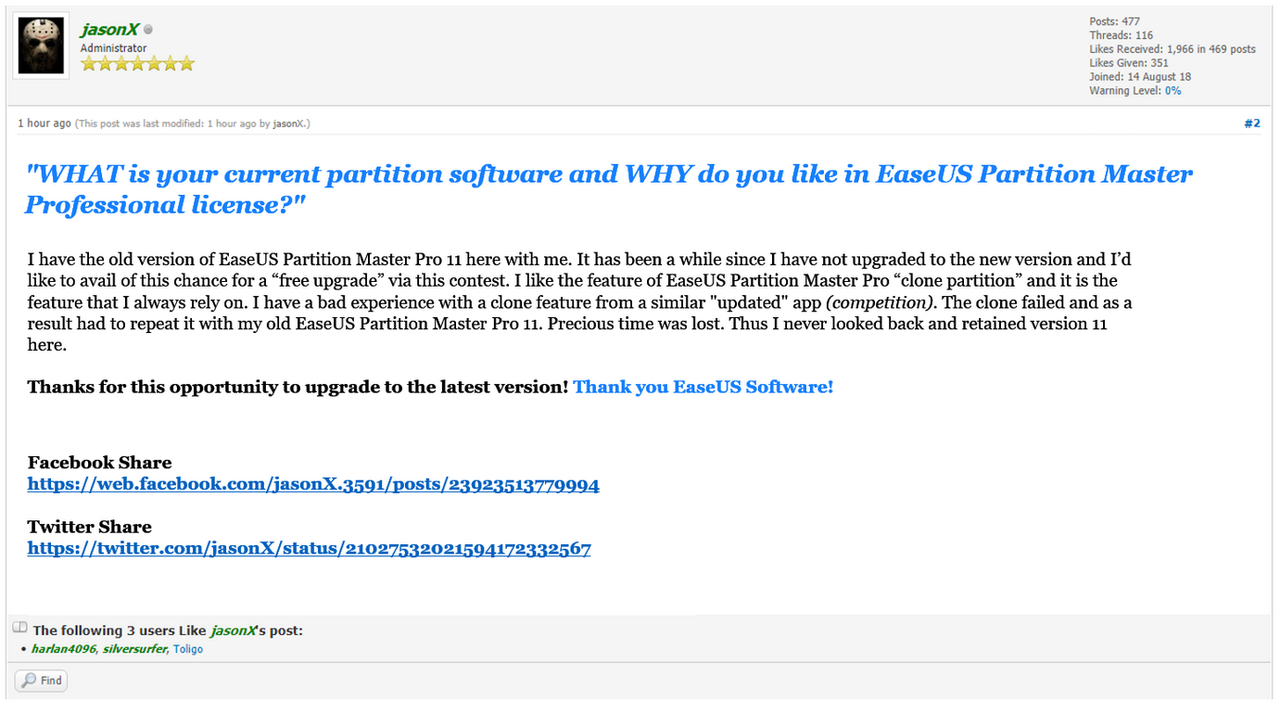 2.

REQUIRED:

Please share this giveaway by pasting the code below in your Facebook/Twitter/Google+ Account.  

(Share is

NOT

limited to popular social media sites like Facebook, Twitter, Google+, and Instagram.)
Code:
Geeks For Your Information Forum [Official] EaseUS Partition Master Professional Halloween 2020 Giveaway 
https://www.geeks.fyi/showthread.php?tid=13132
Optional:

You may want to like/follow

EaseUS Software's

social networking sites as added support.
3. One entry per IP address ONLY.

WE WILL BE CHECKING!



Only one entry per member is allowed. Dual entries will both be deleted and user will be banned from giveaway so

please be careful.



If there are any questions / concerns pertaining to the giveaway/contest please get in touch with me through PM.

Do not post it in this thread.

Doing so will merit a

warning

and ultimately be

banned

from entering further giveaway/contests.
Five (5) winners will each receive one (1) license of EaseUS Partition Master Professional
Winners will be selected by

EaseUS Software Representative
Upon winner announcement, all winners will only have 5 days to send a PM to claim their prize.
Please include your details (

Name / Email

) in your PM claim.
NO CONFIRMATION

FOR THOSE WITH INSUFFICIENT/INCOMPLETE DETAILS.
Prize will be

FORFEIT

if a PM claim is not received within the specified timeframe.
Prize will be

FORFEIT

if a PM claim is "not confirmed".
The Giveaway will run from 
October 24, 2020 to November 25, 2020