We at Geeks For Your Information are very pleased to announce our 


Avast Premium Security FREE LICENSE Giveaway!
We would like to thank

Avast Software

 
for sponsoring us the giveaway prizes
Overview
Avast Premium Security
is Avast Software's latest multi-platform security solution which offers flexible and advanced protection for all your devices.
The following Avast Premium Security products are available:  
Avast Premium Security (for PC, previously Avast Premier)

Avast Premium Security (for Mac, previously Avast Security Pro)

Avast Mobile Security Premium (for Android, previously Avast Mobile Security Pro)

Avast Mobile Security Premium (for iOS, Previously Avast Mobile Security Pro)

An Avast Premium Security
(Single-Device)
subscription protects one device on one platform. An Avast Premium Security
(Multi-Device)
subscription protects up to 10 devices on the platforms of your choice, and allows you to freely transfer your subscription from one device or platform to another. Avast Premium Security has been improved with a comprehensive / complete range of security and features the user can conveniently relax with the assurance that he will stay protected at all fronts. Avast Software has streamlined Avast Premium Security under 3 main aspects of PC protection, (1)
Protection
, (2)
Privacy
, and (3)
Performance
.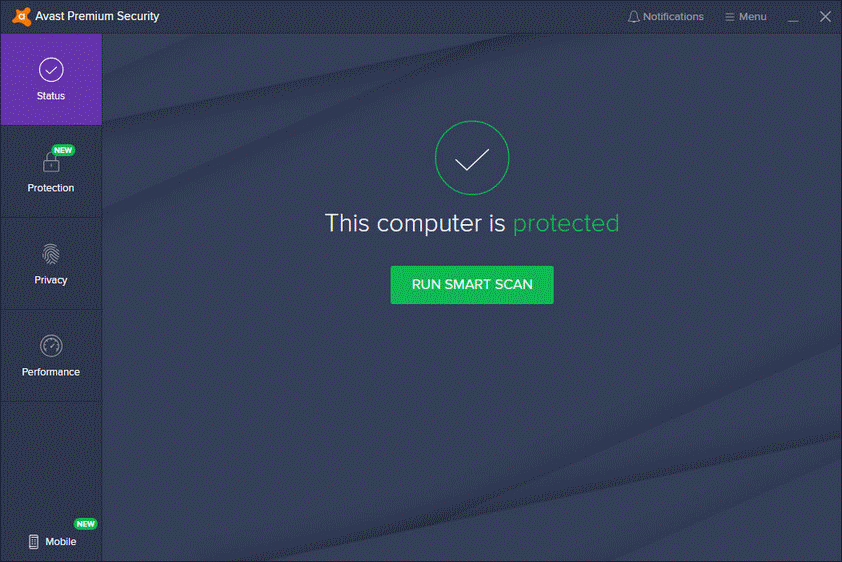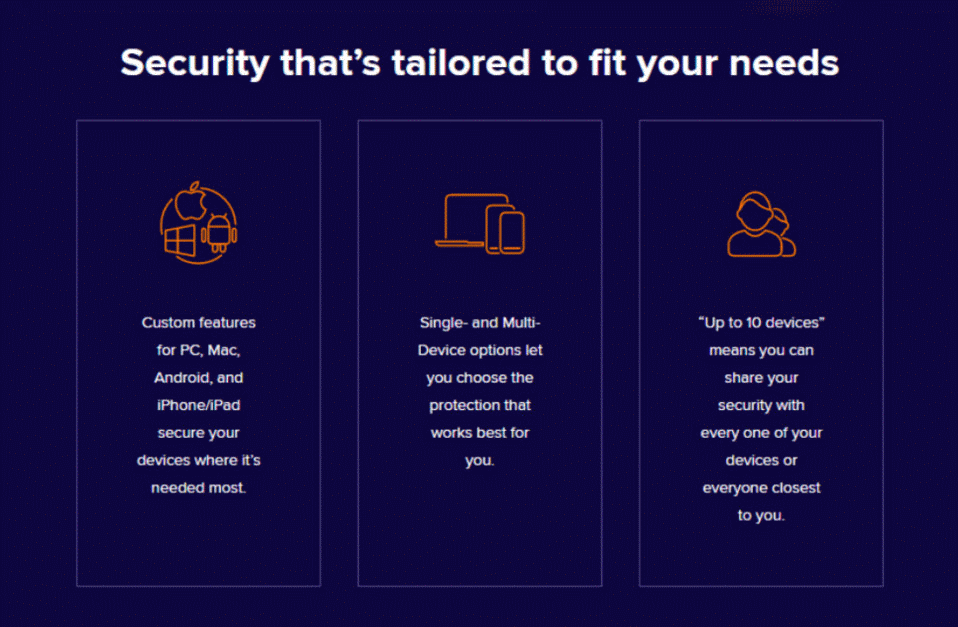 AVAST PREMIUM SECURITY FEATURES
1. Protection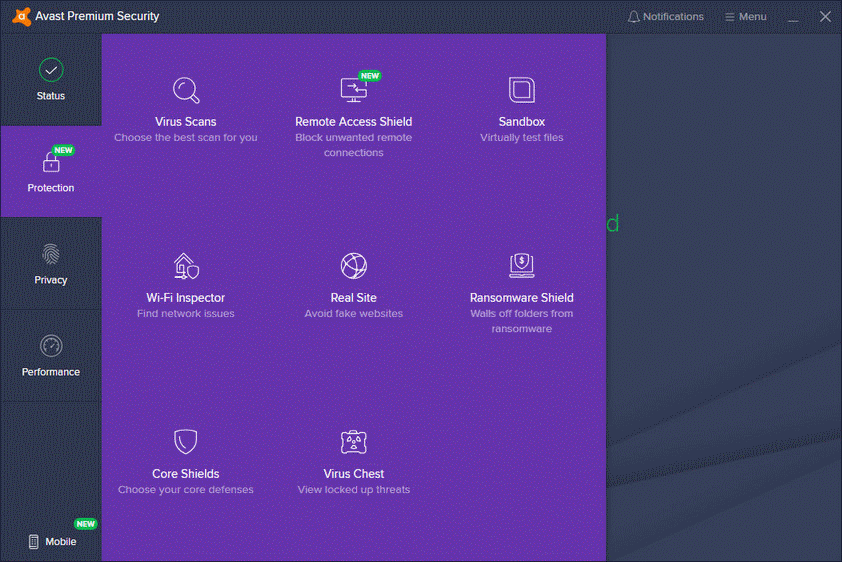 Core Shields
The core shields
(File System Shield, Web Shield and Mail Shield)
are the main layer of active protection in Avast Antivirus. It scans programs and files saved on your PC for malicious threats in real-time before allowing them to be opened, run, modified, or saved. If malware is detected,
File System Shield
prevents the program or file from infecting your PC. The
Web Shield
scans the data that is transferred when the user browses the internet in real-time to prevent malware, such as malicious scripts from being downloaded and run on the user's system. Avast's Web Shield technology scans HTTPS sites for malware and other dangers without any man-in-the-middle (MITM) methods and offers the strongest HTTPS security without having to sacrifice convenience by verifying website certificates rather than replacing them. 
Virus Scans
Avast Premium Security offers four (4) virus scan types, (a) Full Virus Scan, (b) Targeted Scan, © Explorer Scan, and (d) Boot-Time Scan.   
Full Virus Scan:

performs an in-depth scan of your system, checking all hard drives, rootkits, and auto-start programs.



Targeted Scan:

scans files or folders, similar to a Targeted Scan, but is only available from the Windows context menu when you right-click a selected file or folder in File Explorer or on your Desktop.



Explorer Scan:

performans a scan of folders or drives that you specify. This scan is only available in the Windows context menu.



Boot-Time Scan:

performs a scan of your PC for malware that is hard to reach after startup.

While customizable settings are available for some scans, Avast recommends trhe user to only modify settings for temporary troubleshooting purposes. 
Virus Chest
Virus Chest
is an isolated space where you can safely store potentially dangerous files or send them to the Avast Threat Labs for analysis. Files in the Virus Chest cannot run or access your system and data, so any malicious code contained within a file is unable to harm your PC. Avast performs a series of actions that may result in moving a file to the Virus Chest automatically. By default, files are moved to the Virus Chest in the following situations:  
If you run a predefined antivirus scan and it detects a suspicious file.

If an active Core Shield detects a suspicious file.

Note: The user can also access the Virus Chest feature by right-clicking the Avast icon in your system tray and selecting Virus Chest. From the Virus Chest feature screen the user can manually move files to the Virus Chest.
Wi-Fi Inspector
Avast's
Wi-Fi Inspector
sports a new, sleeker look making it easier to use. This feature identifies weak passwords, vulnerable routers, compromised Internet connections, and enabled, but not protected, IPv6. It lists all the devices on the network so users can make sure that only trusted devices are connected. If an issue is found, we'll offer solutions for how to fix it to keep you safe on both public and private networks. This proactive approach to security highlights our ongoing commitment to provide users with 360 degrees of protection that extends beyond the device to the user's Wi-Fi landscape, both now and in the future. 
Remote Access Shield
Remote Access Shield
offers the protection of your business or your personal data with the following features:  
Choose who can remotely access the protected computer using Remote Desktop, blocking all other connection attempts.

Automatically block any brute-force attacks trying to crack the protected computer's credentials.

Automatically block connections attempting to use Remote Desktop exploits like BlueKeep to take control of the protected computer.

Automatically block Remote Desktop connections from high-risk IP addresses.

Get notifications about Remote Desktop connection attempts blocked by Avast.

Quote:

Remote Desktop Protocol (RDP)

is the most dominant cyber security attack vector, being used in 63.5% of disclosed targeted ransomware campaigns in Q1 of 2019.[1] The average downtime related to a ransomware attack is 7.3 days and its average cost is $64,645.[1] Besides spreading malware, RDP attacks are used by skilled hackers to infiltrate corporate environments. RDP is the ultimate infection vector that evades all security layers in most antivirus software and compromises the system directly. During the recent COVID-19 pandemic, the frequency of RDP-based attacks has drastically increased as a result of a large number of employees working from home.[2][3]

The most common ways of gaining access of a computer via RDP are the following:
Brute-force attack - the attackers attempt to sign in to an account by using trial-and-error methods. These can include repeatedly trying to log in with commonly used or stolen credentials, leading to many failed sign-ins occurring over very short time frequencies, typically minutes or even seconds.[4]
Unpatched OS - the operating system is vulnerable to known Remote Desktop exploits. An example is BlueKeep[5], which allows the attacker to run malicious code in the kernel memory of the server, taking control of the entire system.
Ransomware Shield
Avast's
Ransomware Shield
secures the user's personal photos, documents, and files from being modified, deleted, or encrypted by ransomware attacks. This feature scans for and automatically secures folders which may contain personal data and allows the user to specify which other folders he wants to protect from untrusted applications. Additionally, he
(the user)
can specify which applications are allowed to modify the files in your folders and which applications are always blocked. Ransomware Shield monitors all processes on the user's PC in real-time for suspicious behavior that may indicate the presence of malicious code. Behavior Shield works by detecting and blocking the suspicious files based on their similarity to other known threats, even if the files are not yet added to the virus definitions database. 
Firewall
The
Avast Firewall
, offers better outbound protection and configurability than Windows, while remaining nicely invisible to the user. The silent Firewall also uses crowd-sourced data from our 400 million global users to identify what file types and applications are whitelisted, even those from remote corners of the world. The Avast Firewall monitors all network traffic between your PC and the outside world to protect you from unauthorized communication and intrusions. This feature is designed to require minimal input from you. To ensure you are protected, all you need to do is keep Firewall enabled and, when prompted, select the appropriate Firewall profile for each network you connect to.
Real Site
The
Real Site
is a feature that protects the user from DNS (Domain Name System) hijacking to ensure that he
(the user)
access the "actual-real site" that he wants to visit. DNS hijacking is an attack that redirects the user from the site that he wants to visit to one that is fake. This type of attack is dangerous when used with banking and shopping websites. Avast's Real Site provides an encrypted connection between the user's web browser and Avast's own DNS server to prevent hijacking. Real Site
(previously called Secure DNS)
is available in all of Avast's paid antivirus products to encrypt the traffic between an Avast-protected device and our DNS server. This way, users can relax knowing that they'll always go to the right destination every time.
Sandbox
The
Avast Sandbox
is a virtual space that allows users to run files safely, separated from the rest of the user's PC. It is a special security feature which allows you to run potentially suspicious applications automatically in a completely isolated environment. Programs running within the sandbox have limited access to the user's file and system, thus there is no risk to the user's system and to this files. This feature is also connected to the
FileRep
cloud feature which identifies new files for additional analysis. Thus Avast will be able to warn the user before even testing the file via their Virus Lab. When Avast detects anything suspicious it will automatically run the application in the Sandbox. The advantage of running an application in the Sandbox is that it allows the user to check suspicious applications while remaining completely protected against any malicious actions that an infected application might try to perform. There is a
"color border"
that will show when a particular application is being run inside the Sandbox. When the Sandbox is closed, it will be restored to its original state and any downloaded files or changed browser settings will be automatically deleted. 
2. Privacy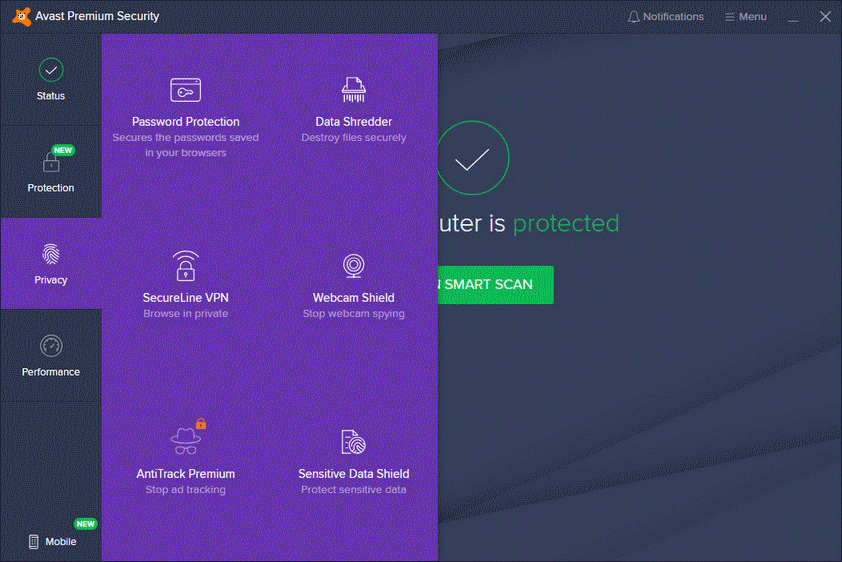 Webcam Shield
The
Webcam Shield
prevents applications and malware from accessing the user's webcam without your consent. With Webcam Shield enabled, untrusted applications cannot capture images or videos and send the content outside of the user's PC to compromise your privacy. Webcam Shield is enabled by default. To disable this feature, click the green ON slider so that it changes to red and displays the text OFF. Avast recommends keeping Webcam Shield enabled at all times. 
Sensitive Data Shield
Sensitive Data Shield
provides an extra layer of spyware protection, beyond what the free antivirus offers. Using advanced algorithms, it scans your computer for documents containing names, addresses, phone numbers, and other data it thinks you'd want to keep private. If it finds any, it will offer to seal them off from unknown apps and spyware. There's no need to move your files or hide them in a secret folder, either. Sensitive Data Shield keeps everything right where you left it, and protects it all automatically. With Sensitive Data Shield, only trusted apps
(e.g., Adobe Reader, Microsoft Word, etc.)
can access or copy your private documents. Anything else is automatically blocked — unless you approve.
Data Shredder
Avast's
Data Shredder
allows the user to irreversibly erase his files or whole drives, so that there is no way for anyone to restore and misuse your data. When a user erases a hard drive, or delete a file using standard tools, only a reference to its data is removed from the file system. Simply deleting sensitive files, such as user data or licensed software, may not be safe as there are tools capable of restoring deleted files. Data Shredder overwrites files with meaningless data multiple times before deleting them, which prevents data from being recovered. Data Shredder is especially useful when selling or donating your computers and hard drives.
Password Protection
Avast Password Protection is a privacy tool that secures your passwords stored in web browsers against malware and unwanted applications. Stored passwords are vulnerable to theft if left unprotected. This feature allows you to specify which apps have access to reading, changing, or deleting your passwords in Google Chrome and Mozilla Firefox.
3. Performance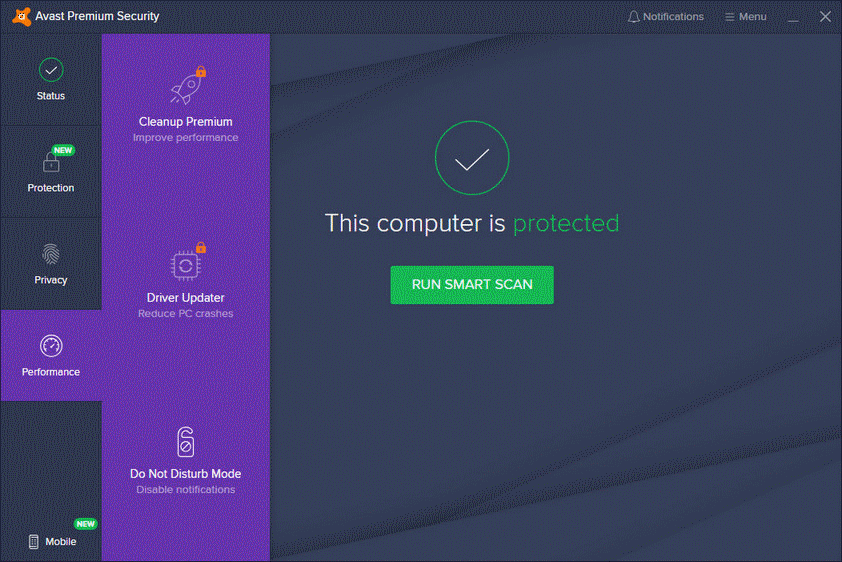 Do Not Disturb Mode
The
"Do Not Disturb Mode"
works to silence unnecessary notifications while the user runs almost any application in fullscreen. Each time the user opens an application in fullscreen mode, Do Not Disturb Mode automatically detects it and adds it to the list of applications. Do Not Disturb Mode automatically launch to silence notifications from Windows, Avast Antivirus, and other application. 
Software Updater
Software updates can be a real hassle, as they interrupt work and disrupt system functions. Because they can be so annoying, many users postpone installing them, which leaves their devices vulnerable. Many PC users are not aware that cybercriminals take advantage of vulnerabilities in outdated, commonly used software such as browsers, Flash Player, Skype, and other programs. Through security flaws, hackers can access a user's system to install malware like spyware and adware, which can affect performance and, perhaps most importantly, lead to identity theft. Therefore, it is important to keep software updated. Avast makes this chore much easier with "Software Updater". Helping users update faster than ever, Avast lists all the out-of-date programs and applications on the device and allows users to update them with a single, convenient click. 
Current build is Avast Premium Security version 20.6.2420 (build 20.6.5495.588 - July 30, 2020)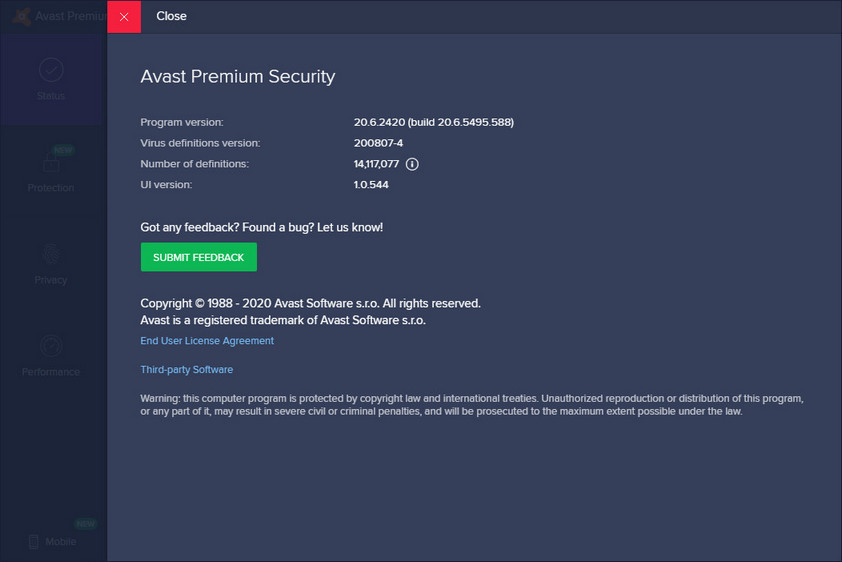 Release Notes :
New: using CEF version now to render the UI (3.3626.1895)

Added useful shortcuts to the interface top-right menu

User no longer have to click twice on our pop-ups to open or close them

A redundant reboot message was fixed

Improved: Smarter Smart Scan - Virus scan now deals with threats automatically, so you don't have to sit through our scans

Fixed: Firewall settings not applied properly

Fixed: Passive Mode fix - Turning on or off Passive Mode no longer shows an 

Fixed: Crashes of UI after online installation

Fixed: Crash related to running Sandbox (if double-clicked)

Fixed: Displaying of detection dialogs in Sandbox

Note: Update information lifted from Avast Forum updates thread
Avast Premium Security licenses for this giveaway
Avast Software has provided Geeks For Your Information Forum EIGHT (8) x 1 year licenses of Avast Premium Security as

FREE license

giveaway prize
To boost forum participation/contribution, all who wish to participate MUST have created a minimum of just

1 thread and 5 posts

(threads in sections: (i) Giveaways / Contests (ii) Deals and (iii) Geeks FYI > Feedback are NOT INCLUDED).

Entries not meeting the requirement will be deleted.

WE WILL BE CHECKING!
1. Just comment about the question below,



"WHAT do you like about Avast?"



Can be any of Avast's Software package, Avast Customer Care service or Avast Software company itself. 

Post your reply as contest entry

WITH

your social media share and you will get a FREE 1-year license!

NO DRAW will be done.

Just follow all rules and your good to go! 

Please see sample entry below.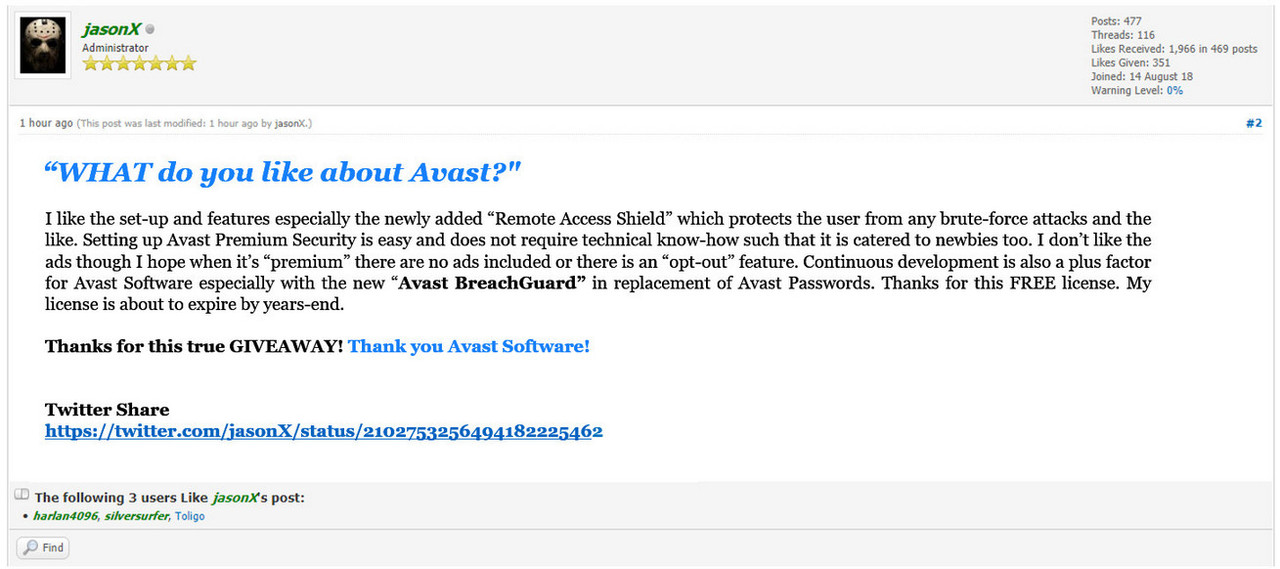 2.

REQUIRED:

Please share the given codes below in your social media accounts.  

(Share is

NOT

limited to popular social media sites like Facebook, Twitter, Google+, and Instagram.)
Code:
Geeks For Your Information [Official] Avast Premium Security FREE LICENSE Giveaway
https://www.geeks.fyi/showthread.php?tid=12417 

Geeks For Your Information_Getting in touch with Avast Customer Care
https://www.geeks.fyi/showthread.php?tid=12409
Optional:

You may want to like/follow

Avast Software's

social networking sites as added support.
3. One entry per IP address ONLY.

WE WILL BE CHECKING!



Only one entry per member is allowed. Dual entries will both be deleted and user will be banned from giveaway so

please be careful.



If there are any questions / concerns pertaining to the giveaway/contest please get in touch with me through PM.

Do not post it in this thread.

Doing so will merit a

warning

and ultimately be

banned

from entering further giveaway/contests.
ALL WHO JOIN-IN WILL RECEIVE A LICENSE
The first EIGHT (8) entrants will each receive (one) 1-year license of Avast Premium Security

**




(**--must have followed all requirements)



This is a first-come-first-served basis FREE giveaway. The first eight (8) qualified entrants will get a 1-year license. No draw or randomization shall be done.
The first eight (8) selected must claim within 5 days of announcement. The announcement will be in successions so please check if you are in the list so you can send your PM claim.  Please include your details (

Name / Email

) in your PM claim.
NOTE: 
Avast Customer Care email and chat support is available 24/7. Avast Support encourages all users to visit the link for questions or concerns (especially with license and license management) and they will be more than happy to address it.

Go to link below on how to create / submit a ticket to Avast Customer Care. An

image-excerpt of a ticket created

is shown there pertaining to license issues.
NO CONFIRMATION

FOR THOSE WITH INSUFFICIENT/INCOMPLETE DETAILS.
Prize will be

FORFEIT

if a PM claim is not received within the specified timeframe.
Prize will be

FORFEIT

if a PM claim is "not confirmed".
The Giveaway will run from August  10, 2020 to September 5, 2020